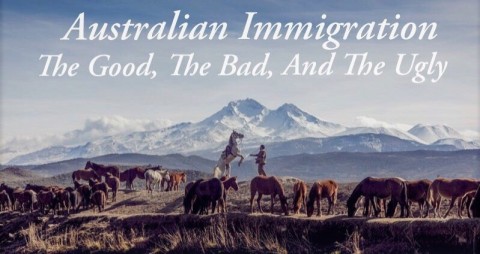 Within the 2018/2019 programme year, Australian immigration has witnessed some massive changes. These changes range from new government, policy changes, the abolishment of the 457 visa, and new visas being implemented. Below you will find a brief summary of changes and what we predict will come in 2019.
We will be releasing a detailed article outlining all the major changes in 2018 very soon.
Australian Immigration 2018 Overview
The Good, The Bad & The Ugly
Immigration News in 2018 was dominated by the abolishment of the 457 visa which led to the implementation of the new 482 visa. Moreover, with the introduction of the Skilling Australia Fund (SAF), it would have been easy to miss some very important changes that happened this year. So, we will start off with some fun, "The Good, the Bad and the Ugly" of Australian Immigration in 2018.

The Good
A new Minister, David Coleman the Minister of Immigration, Citizenship and Multicultural Affairs and the visa decisions start flowing and phone lines start being answered by the Department of Home Affairs.
● Growing international student and tourist numbers
● Reduction in offshore detention
● DAMA's to ease regional shortages
o Also known as the SA Entrepreneur Visa
o A subclass of the 408 visa under the Australian Government Endorsed Events Stream
The Bad
● Processing times at record highs for most Visas.
● State Migration bodies struggle with a surge in numbers of applicants for points based 190 Visas.
● The new Global Talent Scheme as part of the 482 announce and falls flat due to very high-level criteria mainly inaccessible to employer-sponsored applicants.
The Ugly
● Department website goes from Bad to Worse, in November, at the busiest time of year for applications and Australian Tourism
●Skilling Australia Fund poorly designed and leads to a slump in skilled migration, frustrated employers and fails to raise money at anywhere near projected rates.
● While Regional Migration is spoken about, Federal policy changes to 482 and RSMS slash regional migration
Concerns About Planning Levels & Actual Grants
The planning levels control the number of Australian permanent visas that are granted each year. It is important to note that the planning levels are supposed to be used as a target, rather than a maximum. Unfortunately for the 2018 programme year, the planning levels for permanent visas continue to be significant but unmet.
The 2018/2019 Migration Programme Level Targets:
The Skill Stream Total = 128,550 Visas
The Family Stream Total = 57,400 Visas
The Special Eligibility Stream = 565 Visas
This brings the targeted number of visas to be granted to 186,515.
With that being said, the Department of Home Affairs has not reached the planning levels in a number of years. In fact, figures reveal that the number of visas granted in 2017-18 was likely to be around 165,000 – the lowest level in seven years. One way to follow the trend of visas being granted is through the monthly release of the SkillSelect Invitation Round Results.
If previous years are to reveal what is to be seen in the future, we may not see much of a change in the total number of visas issued during the 2018/2019 programme year. Moreover, even though a proposal to lower the total planned migration figures by 20,000 was rejected in 2018, there has still been conversation within the cabinet that suggests it's still a possibility.
Immigration Predictions For 2019
In 2019, we believe that:
1) There will be a number of DAMA's announced in an effort to help reduce regional shortages.
Lager jurisdictions may request DAMA in 2019
Including, Cairns, Townsville, Geelong, Hobart, Canberra, & Adelaide
2) The number of applications for special short visa 400 and 408 visa will continue to rise (due to not being subject to SAF)

3) With a Federal Election scheduled in 2019. There is a chance that the government may change once again. If the government does change, we may see:
Improvements in processing times for family stream visas
Employer-sponsored criteria to remain difficult
Australian Citizenship requirements to remain unchanged
4)
Partner visa processing
will become even more difficult due to separate sponsorship and the application process.
*Still no date set for implementation
5) There will be many changes to Regional Skilled Migration (190/489). Skilled Nomination requirements will become more difficult as more student visa holders graduate. Those students then cannot access the very difficult employer-sponsored visa to try and get nominated for the subclass 190 and subclass 489.
6) That for Business Visas, the 132 visa will have an increase in criteria. This will be due to the 132 visa offering straight to permanent residency, making it one of the most desirable options.
Thank you for reading our brief review of the 2018 Australian immigration programme year and our predictions on what is to come in 2019. If you have any concerns about what has happened in Australian immigration over the past year or have any questions about what is to come, please contact Work Visa Lawyers. Please note that what we have outlined in this article are simply predictions and we will have to see exactly what is to come in 2019.
Do You Need Help With An Australian Visa Application?
At Work Visa Lawyers we are experienced in assisting applicants in all matters relating to Australian visa applications, including state sponsorship applications. Our areas of expertise include Skilled Migration visas, Business Skills Migration visas, Employer-Sponsored Work Visas, Partner, and other Family Migration visas as well as Migration Review Tribunal, Judicial Review and Ministerial Intervention.
If you require further information regarding your Australia visa options you can contact us through:
(08) 8351 9956
or This email address is being protected from spambots. You need JavaScript enabled to view it.
Sources:
https://www.sbs.com.au/yourlanguage/punjabi/en/article/2018/06/14/skilled-visa-squeeze-set-dip-migration-intake-lowest-eight-years
https://www.sbs.com.au/news/australia-s-migration-intake-plunges-amid-beefed-up-visa-checks
https://www.theguardian.com/australia-news/2018/jun/13/australias-immigration-rate-to-fall-again-as-work-visa-approvals-drop
https://www.aph.gov.au/About_Parliament/Parliamentary_Departments/Parliamentary_Library/FlagPost/2017/November/Behind_the_Numbers_-_the_2016-17_Migration_Programme
https://immi.homeaffairs.gov.au/what-we-do/migration-program-planning-levels
https://immi.homeaffairs.gov.au/visas/employing-and-sponsoring-someone/sponsoring-workers/nominating-a-position/labour-agreements/designated-area-migration-agreements