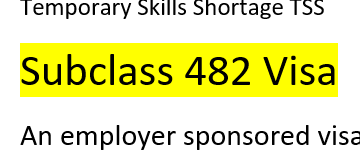 The TSS 482 visa was introduced on 18 March 2018. It replaces the 457 visa which will no longer be granted.
UPDATE: Since writing this article we have released more information on the TSS 482 visa. See the links below for more information.
What are the main features of the TSS Visa?

The Temporary Skills Shortage Visa subclass 482 is a short term work visa.

The TSS allows approved employers (sponsors) to nominate approved positions from the occupation list for overseas workers to fill.

The overseas workers must have the required levels of skills and English to be granted the visa.

The features of the TSS as outlined by the Department fact sheet include:
Work experience: at least two years' work experience in the nominated occupation or a related field.
Labour market testing (LMT): LMT is mandatory, unless an international obligation applies.
Minimum market salary rate: Employers must pay the Australian market salary rate and meet the Temporary Skilled Migration Income Threshold requirements.
Character: Mandatory penal clearance certificates to be provided. TSS visa applicants sponsored by accredited sponsors will be able to satisfy character requirements on the basis of a work reference confirming the applicant's good character.
Workforce: A discretionary non-discriminatory workforce test to ensure employers are not actively discriminating against Australian workers.
Addition of the Regional Occupations List
A key feature of the TSS is that it splits the list into three streams:
Short-Term stream
Medium-Term stream
Labour Agreement Stream
Short-Term stream:
Only allowed visa for duration of 2 years
Only one onshore renewal possible – this means that after 4 years on TSS the applicant will have to go offshore to apply again.
No pathway to PR provided for short term occupation
Medium term stream:
TSS visas granted for up to 4 years
No limit on number of onshore renewals
Offers a pathway to Australian PR after 3 years holding visa with the same employer through:

ENS Temporary Transition (subclass 186)

RSMS Temporary Transition (subclass 187)
Labour Agreement Stream:
The Labour Agreement stream is for where occupations are not on the TSS list. The employer applies for a Labour Agreement to allow them to sponsor specific occupations not on the list.
The Labour Agreement Stream will also accommodate the employers with approved Labour Agreements for the 457 visa.
The TSS 482 visa is a three stage process – Sponsorship (business), Nomination (position) and Visa Application (candidate)
With a three stage process, the TSS visa has a similar process to the previous 457 visa.
The three stages of the TSS process are:
Stage 1: Sponsorship
Sponsorships granted after 18 March 2018 will be valid for 5 years, this is a positive change, as previously, if the business was a start up it would only be valid for 18 months.
To renew sponsorship for businesses operating in Australia, the process is streamlined.
Overseas businesses will need to lodge a new sponsorship application.
Once sponsorship is approved, processing of the nomination can be progressed
Stage 2: Nomination
The employer nominates an occupation for a prospective TSS visa applicant or existing TSS visa holder.
The business Nominates the occupation, and corresponding ANZSCO 6- digit code.
The position must align and be consistent with the nature of the business.
Stage 3: Visa Application
The person nominated to work in the Nominated position applies for the TSS Visa and must have the skills and English requirements at the time of applying.
TSS Visa has a working condition 8607 that must be followed by the visa holder
The condition imposed on the TSS will still be subject to similar work conditions that the previous 457 visa had. The condition is now
8607
, and specifies that visa holders must:
Work for the nominating employer in the position that they were nominated for
Maintain relevant registration and licencing required to work in the position
Commence work within 90 days of being granted the visa or on arrival to Australia
Visa holder is subject to cancellation if they cease work for more than 60 days
TSS English Language requirements:
There are some exemptions to the English language requirement, these include:
Holding a valid passport from certain countries
Those who have completed 5 years' full time study at a secondary education institution or higher and the language of instruction was English.
Nominated in an occupation that requires occupational licensing, registration or membership to perform the occupation and was required to demonstrate proficiency in English.
Employed by a company operating an established business overseas and nominated by an SBS sponsor of that company or an associated entity of that company who is paid at least $96,400 per annum.
TSS Short term stream visa
The required test scores remain unchanged from the 457 visa requirements, apart from a drop of one point in the TOEFL overall band requirement from 36 to 35.
IELTS an overall score of at least 5.0, and 4.5 in each test component
OET at least B for each test component
TOEFL at least 35 overall and at least 3 in listening and reading and 12 in speaking and writing.
PTE at least 36 in each test component and a score of at least 30 in each test component
CAE at least 154 in each test component
TSS Medium term stream visa
The required test scores have been
increased
for each English language test to:
IELTS at least 5.0 in each test component
OET at least B for each test component
TOEFL at least 35 overall and at least 4 in listening and reading and 14 in speaking and writing.
PTE overall score of 36 at least 36 in each test component
CAE at least 154 in each test component
TSS fee changes
Fees for Sponsorship ($420) and Nominations ($330), have remained the same and however, the fees for each stream have increased:
TSS Short Term Stream:
$1,150, per applicant over the age of 18.
TSS Medium Term Stream:
$2,400, per applicant over the age of 18.
TSS Labour Agreement Stream:
$2,400 per applicant over the age of 18.
TSS Sponsorship Application – currently does not require evidence of Training Australian Citizens and permanent residents
The government has plans for a Skilling Australians Fund (SAF) that sponsors will have to contribute to before an application can be approved.
The proposal is for businesses with turnover of less than $10 million per year will be required to make:
A contribution of $1,200 per year for each temporary overseas worker and a one off $3,000
Businesses with an annual turnover of $10 million or more will be required to pay $1,800 per year for each temporary worker and a one-off payment of $5,000 for each permanent worker
The bill for the SAF is still before parliament and may or may not be passed.
At the present time there is not training requirement required for TSS business sponsorship applications. This is likely to change in the future when the SAF is introduced or the government reverts to something similar to the Training Benchmarks that were required under the 457 visa.
TSS nomination stage requires LMT for all positions
Labour Market Testing will be required for all TSS Nominations for all positions, unless there is an international obligation to the contrary.
Nomination applications lodged
on or after 18 March 2018 and before 18 June 2018 must show that they have undergone a LMT in
the 12 month period immediately before the nomination is lodged.
Nomination applications lodged
on or after 18 June 2018
the 6 months immediately before the nomination is lodged.
F2018L00293 - IMMI 18/059:
Period within which labour market testing is required to be undertaken Instrument 2018
.
Health of applicant and TSS
The TSS visa is subject to health criterion
4007
. This means that if the applicant has a health condition, they can still be granted if the cost to the community is "not undue" via a health waiver. The applicant's personal factors can be taken into account. Examples include:
pre-existing health insurance
financial capacity
ability of relatives to provide the necessary care
There is no requirement that the employer sign an undertaking, meaning that the employee does not need to disclose their condition.
457 Visa holders and TSS Visa holders' path to permanent migration
Current 457 Visa holders will still be able to apply for a permanent visa under existing Employer Sponsored visas.
TSS Short term stream visa can be renewed onshore once.
TSS Medium term stream visa can be renewed without limitation and applicants may be eligible for permanent employer sponsored visas.
457 Sponsorships can be used for TSS visa applicants
If you are a business who is already a Standard Business Sponsor for the 457 visa, you can still sponsor and nominate workers under the new TSS subclass 482 visa for all three streams.
Commentary by Chris Johnston, Principal Lawyers at Work Visa Lawyers:
Why are these changes being made?
There appears to be different motivations for different aspects of the changes.
The change requiring 2 years of experience seems to be aimed at preventing international students that have just graduated or Working Holiday Visa (WHV) holders from applying for the TSS visa.
The splitting of the list and only allowing PR applications for medium-term occupations seems to be trying to reduce the number of PR applications within the Temporary Transition Stream. In doing so, it allows the Department to be more selective in the occupation of those that are applying for PR.
Positives of TSS changes
Allow for lodgement of a TSS visa from a Bridging Visa A, B or C. This is a major positive because with the 457 this was not possible. On the 457, persons would often apply for a Bridging Visa B to travel offshore to lodge an application and to then return. This was leading to even more applications for the Department to consider.
Currently there are no training requirements for Australian businesses – this may only be a temporary feature with the Skilling Australians Fund legislation before Parliament.
Negatives of TSS changes
The increased Labor Market Testing (LMT) requirements will increase costs on businesses.
English language requirements are slightly higher for the Medium term stream.
Potential big negative change in future - Skilling Australia Fund (SAF) Tax
The SAF is proposed to include:
Training requirement: Employers nominating a worker for a TSS visa will be required to pay a contribution to the SAF. The contribution will be:
payable in full at the time the worker is nominated;
$1200 per year or part year for small businesses (those with annual turnover of less than $10 million) and $1800 per year or part year for other businesses.
This extra cost will be a burden on Australian businesses. Further, it may prove to make the TSS too expensive to do, and lead to a drop in temporary work visas and not much income for the Federal Government.
Many features of the 457 visa are also the same in the TSS 482 Visa
There are a very large number of similarities between the 457 visa and the 482 visa including:
These include the three stage process.
The need for a sponsor to be approved and the obligations on the sponsor.
The need to identify an occupation from the 457 list.
The ability for the government to monitory the sponsor.
While there are some changes, such as wider labour market testing (LMT), the introduction of the TSS 482 may be more about the government trying to distance itself from the 457 visa, than wholescale changes.
In Conclusion:
The TSS 482 will be the visa that many employers will need to use to get skilled temporary workers to fill positions they otherwise cannot fill.
The TSS 482 will be required for a number of industries, including hospitality, health and IT, to be able to get access to skilled workers to fill positions.
Do you need help with a Sponsorship or TSS visa application?
At Work Visa Lawyers we are experienced in assisting applicants in all matters relating to Australian visa applications.
If you are a holder of a 457 visa or intend to apply under the new rules, we can assist you.
We assist businesses of all sizes that are looking to sponsor and nominate a visa applicant.
Advise businesses how to meet the Department Training and Labour Market Testing requirements.
We advise visa applicants on their eligibility to make the 482 visa application or who are transitioning from a 457 or 482 to permanent migration.
We assist permanent migration for eligible 457 visa holders through the ENS to RSMS visa pathway.
Advise visa holders with responses to the Department meeting the 8607.
Advise visa holders with responses to 'Notices of Intention to Cancel'.
Advise Employers of their ongoing sponsorship obligations.
If you are a potential visa applicant, please book a consultation to discuss your visa options. We are experienced in all types of Employer Sponsored visas.
Our areas of expertise include Skilled Migration visas, Business Skills Migration visas, Employer Sponsored Work Visas, Partner and other Family Migration visas as well as the Administrative Appeals Tribunal (AAT) Review, Judicial Review and Ministerial Intervention.
If you require further information regarding your Australia visa options you can contact us through:
(08) 8351 9956 or +61 8 8351 9956
or
This email address is being protected from spambots. You need JavaScript enabled to view it.