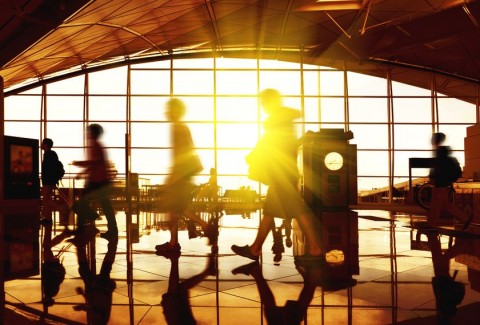 There are several reasons why your Australian visa can be cancelled.
The following scenarios are common:
Cancelled due to breaching a visa condition.
Cancelled on reasonable suspicion that conditions of the visa are being breached.
Cancelled due to pending criminal charges.
Cancelled due to providing false and misleading information.
Cancelled due to failure of the character test.
Student visa holders not meeting the requirements of their course or not being enrolled full time.
---
Visitor visa cancellation at the airport
Tourist visa holders are commonly caught by immigration officials for failing to declare their intentions for their visit or for bringing hazardous materials into Australia.
Recently, any visitor visa holder who breaches Australian biosecurity laws will have their visa cancelled and may be detained in immigration detention pending their removal from Australia. The cost of this removal will be met by the non-citizen.
Automatic cancellation of a visa
Your visa will be automatically cancelled if you meet the following criteria:
1. You are not a citizen of Australia; AND
2. you are currently serving a sentence of imprisonment in a custodial institution, on a full time basis for an offence against a law of the Commonwealth, State or Territory; AND
while you have been in Australia you have been sentenced to a term of imprisonment for 12 months or more.
OR
you have ever been convicted of a sexual offence against a child.
Cancellation process
An Australian visa can only be cancelled by the Department of Home Affairs or the visa holder writing to the Department to cancel their current visa. Any other third party cannot cancel your current visa.
You may receive a warning letter advising you that your visa may be cancelled. This is known as Notice of Intention to Consider Cancellation. If you receive this notice, you may choose to respond. As this notice is already a warning, it is best you seek legal advice upon first receiving this notice.
If you respond to the Notice and the Department accepts your response, then you will continue to hold a visa. If the Department does not accept your response or you do not respond then a Notice of Cancellation notice will be sent to you either by Post, Email or in Person.
My Visa is cancelled, what are my options?
If the decision is a discretionary visa cancellation
Once a Notice of Cancellation is received by you, it means you no longer hold a valid visa and you are considered unlawful. However you can appeal the decision in the Administrative Appeals Tribunal. During this time, you may be transferred to an immigration detention facility because you do not hold a visa.
If the decision is a mandatory visa cancellation
If your visa is cancelled automatically because of your criminal history then you will have 28 days from the date of the notice to request that the Minister reconsider the cancellation and revoke the decision.
You must make sure that your response reaches the Department in time. You must complete the Request for Revocation of a Mandatory Cancellation Under 501(3A) form within 28 days. Supporting evidence should also be given to support your claims in accordance with Ministerial Direction 79.
What if I have a visa application in processing at the time of my visa cancellation?
Cancellation decisions will, as a consequence, lead to any un-decided visa applications or visas held also being refused or cancelled. Any bridging visa you hold associated with a visa application will also be cancelled.
Visa cancellation trends
Data from the Department of Home Affairs shows that over a 12 month period there were 888 visa canceallations on character grounds alone. New Zealand nationals represented the greatest share of visa cancellations, however they also have the greatest representaion amongst visitor visa holders overall.
Character cancellations undertaken from 1 January 2018 – 31 December 2018, By top 10 nationalities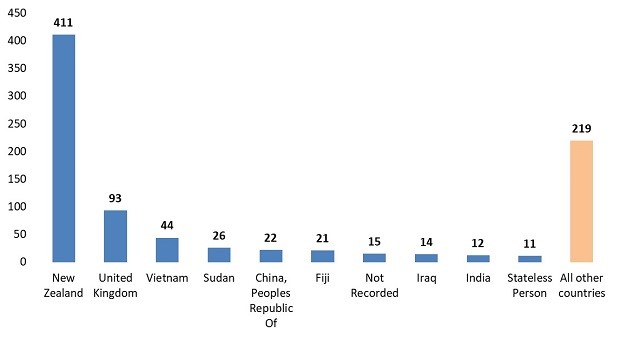 Source: Department of Home Affairs
Do you need help with an Australian visa application?
At Work Visa Lawyers we are experienced in assisting applicants in all matters relating to Australian visa applications. Our areas of expertise include Partner Visas, Skilled Migration visas, Business Skills Migration visas, Employer Sponsored Work Visas and other Family Migration visas as well as the Administrative Appeals Tribunal (AAT) Review, Judicial Review and Ministerial Intervention.
If you require further information regarding your Australia visa options you can contact us through:
(08) 8351 9956 or +61 8 8351 9956 or This email address is being protected from spambots. You need JavaScript enabled to view it.