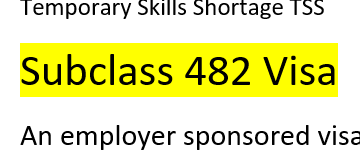 The TSS 482 visa was introduced on 18 March 2018. It replaces the 457 visa which will no longer be granted.
What are the main features of the TSS Visa?
The Temporary Skills Shortage Visa subclass 482 is a short term work visa.
The TSS allows approved employers (sponsors) to nominate approved positions from the occupation list for overseas workers to fill.
The overseas workers must have the required levels of skills and English to be granted the visa.
The features of the TSS as outlined by the Department fact sheet include: