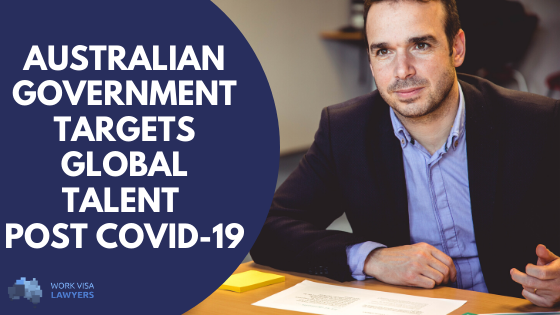 As Australia tries to restart the economy post-pandemic, the Morrison government will reset the permanent migration cap in its October budget. Acting Immigration Minister Alan Tudge wants to use the newly launched Global Talent Independent program to attract 5,000 of the world's most talented high-tech migrants each year, with fast-tracking to Australian permanent residency.
---
If you think you are eligible to apply for a Global Talent Visa, take 5 minutes to complete our free online Global Talent assessment form.
Our lawyers and registered migration agents will assess your eligibility and get back to you.
The Australian Government recently announced three new visas for innovation:
The Global Talent Independent visa, in particular, has attracted a lot of attention as it is the first of its kind in Australian immigration.
While applications for many other visa subclasses have stagnated during
COVID-19,
the GTI visa continues to be processed. This is consistent with Ministerial Direction no. 85, signed by Immigration Minister David Coleman in November 2019. Direction no. 85 enables the Department of Home Affairs to give priority processing for the Distinguished Talent cohort (subclasses 124 and 858) to "
support the responsive processing of applicants that are identified as highly desirable by Government
."
The GTI program uses the Distinguished Talent subclass 858 and subclass 124 visas, but provides a new pathway to these by invitation.
The program targets highly talented people in the agricultural, financial, mining and medical technology, cyber security and advanced manufacturing sectors. Applicants must have the ability to attract a salary above the
Fair Work income threshold
, which is currently at AUD $148,700. Recent high achieving PhD or Masters graduates in the target sectors may also be eligible. To read more about the requirements, read our article
here.
Information obtained under Freedom of Information laws show that
227 visas
had been granted under the GTI program as of January 2020. With the forecast of an
85% drop
in net overseas migration for the 2020-21 program year, migration through the GTI program is likely to be the most accessible for those who can meet the criteria.
In this article, we discuss the GTI program in comparison to various employer-sponsored visas and its implications on regional migration and labour industries.
Why the Global Talent Independent Visa?
Launched in November 2019, the Global Talent Independent program aims to attract highly-talented candidates who are at the top of their field in high growth industries. To entice these talented candidates, the Australian Government have designed the GTI program with the follow key features:
Priority processing, with decisions being made from one week to two months.
Permanent residency straight away
No age limit
Free to work for any employer
No sponsorship requirements
No SAF levy to be paid
Access to Medicare and other government benefits
Global Talent Visa as a substitute for Employer-Sponsored Visa
Problems with Employer-Sponsored Visas
A number of changes to employer-sponsored visas over the last four years have made
employer-sponsored visas
very unattractive for employers and difficult for applicants to meet the requirements. While it has been very difficult to get figures in relation to what's been happening in this space, it is clear that the number of employer sponsored visa applications is slumping and will continue to decline with the effects of
COVID-19
and
recent bushfires
.
The changes to employer sponsored visas have been well documented and there have been many submissions made by peak bodies including the Migration Institute of Australia ('MIA') in relation to the many deficiencies of the employer sponsored visa scheme. Read more about the MIA's submissions to the Inquiry into Regional Migration,
here
.
The key areas of problems include:
The Skilling Australia Fund ('SAF') levy has made it very expensive for employers to sponsor workers.
The work experience requirements are very difficult for prospective migrants to meet. The current work experience requirements are:
GTI Substitute for Employer-Sponsored Visas
The Global Talent Independent Visa is being used by many employers to nominate highly paid positions that otherwise would have been nominated through employer-sponsored migration. By doing this, employers can avoid paying the expensive SAF levy while still being able to access highly skilled employees. The problem with this is that rather than attracting new global talent, as the GTI program was designed to do, the positions are being filled by those that are already being targeted by employers.
This means that some of the global talent independent program figures may effectively be just a few shifting numbers from the employer-sponsored migration space into the space of global talent migration, and not actually attracting new talented migrants who would not have otherwise come to Australia.
Global Talent Independent Visa vs Regional Migration
The Department of Home Affairs have been promoting regional migration in response to
congestion in Australian metropolitan cities
such as Sydney and Melbourne. However the regional visas put forward by the Department of Home Affairs have not proven to be as easy for applicants to access as would have been desired.
The limitation of the GTI visa, and arguably one of its attractive factors, is that it is not linked to regional areas. This means that those who are granted a GTI visa are likely to cluster around Australia's most populated cities.
Global Talent Independent Visa vs Trades and Agricultural Labourer Positions
The Global Talent program focuses on high-tech related and highly paid skills sets. This is a positive and there are definitely some shortages in relation to such highly skilled tech-related positions. However the most consistent areas of shortages are not in relation to high-tech positions, but are in trades and also agricultural labouring positions.
Trade Occupation Shortage
There have been consistent shortages in relation to trade occupations such as electricians and diesel mechanics. These shortages are reflected by the fact that these occupations I consistently on the medium-term (long-term) skill shortages lists for migration purposes. You will also find that many states do not add any extra conditions for sponsoring these occupations, whereas Degree level and often management focus positions often require many additional requirements to meet state sponsorship.
Agricultural Labour Shortage
The shortage of Australian agricultural labourer positions is well documented over many decades. This gap has been partially field by the Pacific Islander and also backpacker visas. However the need to address the low wages and seasonal nature of this work has never really been addressed by the Federal Government. As a result, there is a consistent and ongoing shortage in this area.
The shortage in this area is set to increase over the next couple of years, as the effects of the Coronavirus will stop the constant flow of backpackers that have been coming to Australia up until recently. The number of backpackers that are already in Australia will not be sufficient to complete all the work and their incentive to keep doing the job is decreasing over time. This is an article for another day, but there is an argument for the introduction of a government subsidised and regulated base level wage for agricultural labour during the Coronavirus times. Such a move would decrease the dependence on foreign labour which is currently almost impossible to access. It would also provide more stability for the sector and allow people to live in regional areas, bringing great economic benefit to these regional areas.
Global Talent Independent Visa in 2020-2021 – Opportunity for Permanent Residency
The Global Talent Independent Visa is the most successful of the three visas for innovation. The opportunity to attract global talent has been increased by the COVID-19 pandemic. This is due to the global increase in unemployment rates as a direct impact of the COVID-19. Prior to the global pandemic, these highly-skilled candidates might not have been looking to migrate to Australia. With the Coronavirus under control, Australia has become an even more attractive destination compared to other nations where COVID-19 has proliferated.
Minister Tudge hinted at the potential development of the GTI program as an integral part of the Australian migration program for the 2020-21 migration year, post-pandemic.
More Information on the Global Talent Programs
If you are interested in finding out more about visas under the the Global Talent program, read more here:
Do you need help?
Our team of experienced Immigration Lawyers and Migration Agents look forward to assisting you with your Australian visa or appeal.
Based in Adelaide South Australia, we provide Australian Immigration advice to people and businesses from all over the world.
If you require further information regarding your Australia visa options you can contact us through:
(08) 8351 9956 or +61 8 8351 9956 or This email address is being protected from spambots. You need JavaScript enabled to view it.
Sources:
https://www.workvisalawyers.com.au/news/all/the-global-talent-visa-program.html
https://www.workvisalawyers.com.au/news/all/why-the-australian-global-talent-independent-visa-is-so-hot-right-now.html
https://www.workvisalawyers.com.au/news/all/coronavirus-how-will-covid-19-affect-australian-immigration-practice-and-policy-students-skilled-business-family.html
https://www.smh.com.au/politics/federal/migration-reset-looms-in-budget-as-government-eyes-super-skilled-talent-20200521-p54vcl.html
https://www.itnews.com.au/news/tech-migrants-shun-australias-new-fast-track-permanent-residency-visa-548177
https://www.pm.gov.au/media/press-conference-australian-parliament-house-act-1may20
If you wish to keep up to date with Work Visa Lawyers' coverage on the COVID-19 impacts on Australia's immigration policy and current visa programs, read our rolling news blog here.