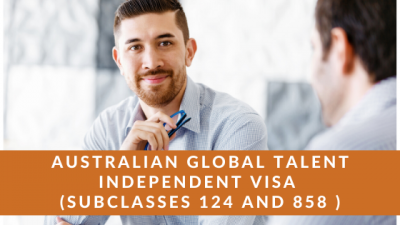 The Global Talent Independent Visa is a hot new initiative by the Australian government to encourage highly skilled workers to migrate to Australia.
We are seeing great interest in this visa from skilled professionals in Australia and around the world.
---
If you think you are eligible to apply for a Global Talent Visa, take 5 minutes to complete our free online Global Talent assessment form.
Our lawyers and registered migration agents will assess your eligibility and get back to you.
The Global Talent Independent Visa is great for many reasons, including:
Very fast processing


Straight to Australian permanent residency visa holder status


No expensive Skilling Australians Fund levy


No need for a job offer in Australia


Access to Medicare
Global Talent Independent Visa Processing Time
Australian permanent visa processing times can often be more than 12 months, sometimes up to almost 2 years. The GTI visa has one of the fastest processing times of all Australian permanent visas.
At the Law Council's Immigration Law Conference on 20 March 2020, respresentatives from the Department of Home Affairs stated that applications under the GTI program are being given priority processing. Processing times vary from 2 day to 2 months with many being decided in one to two weeks!
Minister for Immigration, Citizenship, Migrant Services and Multicultural Affairs David Coleman has also signed Ministerial Direction no 85 in November 2019. Direction no. 85 enables the Department of Home Affairs to give priority processing for the Distinguished Talent cohort (subclasses 124 and 858) to "support the responsive processing of applicants that are identified as highly desirable by Government."
The GTI program uses the Distinguished Talent subclass 858 and subclass 124 visas, but provides a new pathway to these by invitation.
Global Talent Post-Coronavirus
The recent Coronavirus (COVID-19) pandemic has shown how important Australian permanent residency visa status can be for receiving support in difficult times
and the right to enter Australia. The GTI program allows for the grant of a permanent visa in what is likely to be the fastest time of any program.
Acting Immigration Minister Alan Tudge has hinted at the potential development of the GTI program as an integral part of the Australian migration program for the 2020-21 migration year, post-pandemic.
The Australian Government is keen to ensure its 5,000 spots are filled in the 2019/20 migration program year, which ends on 30 June 2020, so it is important that you get into the program while you can.
If you are interested in coming to live in Australia and meet the high income threshold, the Global Talent Independent Visa Program is a great opportunity for
highly skilled individuals to migrate to Australia. It's easy to see why the program is so hot right now!
Read more about the Global Talent Independent Visa on our website
Do you need help?
Our team of experienced Immigration Lawyers and Migration Agents look forward to assisting you with your Australian visa or appeal.
Based in Adelaide South Australia, we provide Australian Immigration advice to people and businesses from all over the world.
If you require further information regarding your Australia visa options you can contact us through:
(08) 8351 9956 or +61 8 8351 9956 or This email address is being protected from spambots. You need JavaScript enabled to view it.
Sources:
https://minister.homeaffairs.gov.au/davidcoleman/Pages/global-talent-program-business.aspx
https://www.workvisalawyers.com.au/news/all/the-global-talent-visa-program.html
https://www.workvisalawyers.com.au/news/all/immigration-focus-on-the-global-talent-visa-post-coronavirus.html