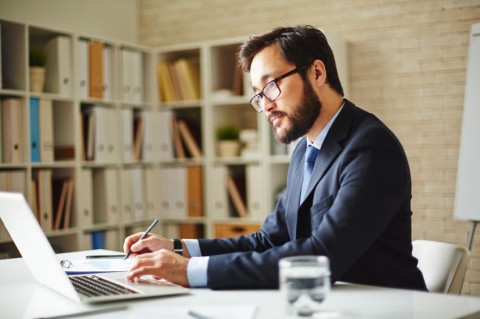 IELTS has a new test format available to students - computer-delivered IELTS, which has been designed to make it easier for students to take the test at their convenience on a desktop computer.
The IELTS test is offered in two formats, IELTS Academic and General Training. Computer-delivered test takers will be tested on the following components:
Listening
Speaking
Reading
Writing
All aspects of the computer based test are the same as the paper based test, including question types, timings, content and marking.
Features of the computer-delivered IELTS Speaking Test
Test conducted in private test room, face-to-face with a real examiner, without outside noises or other distractions
The test does not have a 'time-out' function
A question can be repeated and/or rephrased upon request
It matches your level and pace of English
The examiner can hear your accent
The main advantages of the new, computer-delivered IELTS test
Multiple test sessions will be run daily, offering visa applicants increased flexibility of dates and times to take the test.
Forward and backward navigation through questions
Test takers will receive their results faster, usually within 5-7 days (we have clients receiving results the next day).
.
Comparisons with PTE Academic
Both tests cost AUD $330.
IELTS does not charge a late booking fee, while PTE charges an extra $82.50 for late bookings.
IELTS has forward and backward navigation, so test takers can go back to previous questions to check or complete. PTE only allows forward navigation, and mistakes must be corrected before moving onto the next question.
IELTS provides results within 5-7 days, PTE Academic provides results within 5 business days
The computer-delivered IELTS is a big improvement over the traditional IELTS exam. This will help visa applicants with its increased availability, modern format and quick results.
As many temporary and permanent residence visa applicants need to meet English language requirements, it is important to know all about the different English exams available. You can refer to our earlier article which outlines in detail the features and differences between the five different English tests for visa applicants.
Source:
https://ielts.com.au/computer-delivered-ielts/
Do you need help with an Australian visa application?

At Work Visa Lawyers we are experienced in assisting applicants in all matters relating to Australian visa applications. Our areas of expertise include Skilled Migration visas, Business Skills Migration visas, Employer Sponsored Work Visas, Partner and other Family Migration visas as well as the Administrative Appeals Tribunal (AAT) Review, Judicial Review and Ministerial Intervention.

If you require further information regarding your Australia visa options you can contact us through:

(08) 8351 9956 or +61 8 8351 9956

or This email address is being protected from spambots. You need JavaScript enabled to view it.