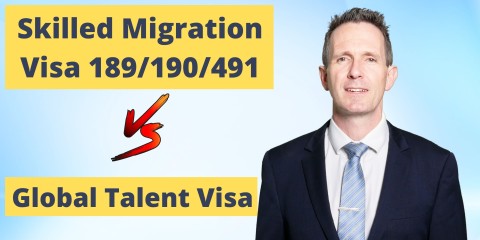 Read our latest Australian Immigration updates here >
During Australia's border closure and travel restrictions in 2020 to late 2021,
visas such as the Skilled Independent (subclass 189) visa, Skilled Nominated (subclass 190), and the Skilled Work Regional (Provisional) (subclass 491) were not processed as quickly as the GTV and fewer invitations were extended.
The Global Talent Visa (GTV) on the other hand has gained popularity as it was an attractive option for several skilled and talented individuals because it was designed to be a streamlined pathway to permanent residency for those who are considered as high-calibre, outstanding global talents.
So how would you know whether the Global Talent Visa or another skilled visa is suitable for you? Below are some of the considerations
Global Talent Visa Allocations and Skilled Migration Program Allocations for 2022-23
For the 2021-22 financial year, the places allocated for the skilled independent visa (sc-190) program is only 6,500, for the State/Territory Nominated visas (sc-491 and 190) it is 11,200. The Global Talent program was allocated 15,000 places. This shows the Australian government's push to attract more top-ranked talent to Australia.
The low number of places allocated to the skilled independent visa also made the program more competitive thus the Global Talent visa became more attractive for a lot of talented individuals last year.
For this coming financial year (2022-223), however, the Australian government had decreased the allocations for the Global Talent Visa to 8,448. This means that the Global Talent Visa will become more competitive.
Global Talent Visa Target sector vs Skilled Occupation list Visa 491/ Visa 190/Visa 189
To be eligible for the Global Talent Visa, your occupation does not need to be in the Skilled occupation list unlike for the other skilled visas. However, you have to be working in one of the target sectors. As a global talent, you do not have to have a skills assessment to prove that you have the skills, knowledge and experience that meets the Australian standard to work in your occupation or profession.
Nomination for GTI program vs State Nomination or Skilled Independent 189 Visa Invitation
For the Subclass 189 visa, you do not have to be nominated. For the Global Talent Visa, you must have a nominator who is an Australian citizen or permanent resident and who has a 'national reputation' in the same field as you.
You will need to have state nomination (Invitation to apply for a specific visa) to apply for Skilled regional visa 491 or Skilled nominated visa 190.
Depending on each state, the nomination requirement varies.
Please book an appointment with us to know the best pathway for yourself and your family
Age requirement for Global Talent Visa and Skilled Visa program
If you are over 45 you will not be eligible for the 189, 190 or 491 visa. But if you are over 45 and meet the criteria for the GTI program, then the GTV may be the visa for you. Note however that if you are over 55 years old you need to provide evidence that you will be of exceptional benefit to the Australian community.
Skill assessment requirment
Global Talent Visa program will not ask for a positive skill assessment for your nominated occupation. You just need to prove that you have skills in a target sector of Australia. There are a few more requirements for Global Talent Visa which you can refer to this link.
However, Skill assessment for your nominated occupation is a compulsory document to apply for any skilled visa 189, 491 and 190.
We have seen a lot of confusals of this comparing to state nomination requirement.
Skill assessment requirement is different from state nomination requirements from each state.
For example, South Australia has a 6 months work experience required for 491 visa for Marketing Specialist.
But marketing specialist skill assessment (VETASSESS) requires candidates to have at least 1 or 2 years work experience post graduation to receive a positive outcome.
Take Free GTV Assessment Book an Appointment
English requirement for Global Talent Visa vs Skilled Migration program
One other factor that makes the Global Talent Visa Australia more attractive is that English requirement is only 'Functional English' which is equivalent to IELTS score of an average band score of at least 4.5 based on the 4 test components. Other evidence can be provided to prove the applicant's English language ability.
And if the level of English proficiency is not met, the visa can still be granted upon payment of the second visa application charge.
For the other skilled visa, the prospective applicant needs to get a score equivalent of at least a 'Competent English'. As this is points tested, the higher the English proficiency the better.
***
These are just some of the considerations and not a complete exhaustive list, if you want to know what visa is suitable for you, you can book an appointment with us here.
Or if you want to check if you meet the criteria for the Global Talent Visa, you can take our free GTV assessment here.