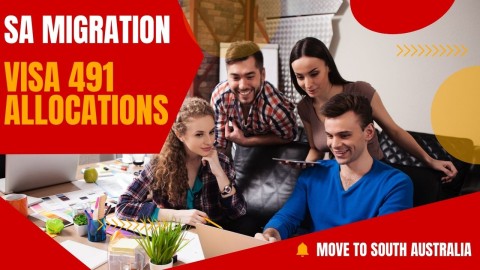 Latest news on South Australia Skilled Regional Visa 491 allocations
South Australia has announced that it is close to meeting its quotas for visa 491 nominations under General Skilled Migration state nomination program for this financial year 2021-2022.
SA occupation list website has modified all the requirements for 491 visa to only available for Talent and Innovator program. This means that all 491 applicants will have to lodge a registration of interest.
Skilled & Business migration is still open for new applications and continuing to process the active ones, the demand for South Australia state nomination 491 visa will likely exceed their annual places of nomination.
Learn more about South Australia immigration here >
In the meantime, to ensure the nomination of highly skilled applicants who can best contribute to South Australia's economic recovery, Move to South Australia is taking following measures:
Prioritising the assessment of Subclass 190 applications
Prioritsing the assessment of applications for candidates with a subclass 485 visa expiry date within this program year 2021-2022
Prioritising highly skilled onshore applicants with demonstrable work experience who are working full-time hours in their nominated occupation for a South Australian employer
Encouraging candidates seeking a subclass 491 nomination to submit Registration of Interest (ROI) applications through our Talent & Innovators Program, for consideration
The South Australia Government has requested from the Commonwealth Department of Home Affairs additional quotas under the state nomination program.
If these additional places become availbale, further information regarding nomination eligibility will be provided.
Is South Australia Visa 491 your only option? What should you do now?
As a specialized firm in the SA State Nomination program ( Work Visa Lawyers has been established in South Australia for more than ten years with South Australian Immigration Lawyers and Registered Migration Agents), we understand that many skilled migrants have moved from other states to South Australia and sought 491 nominations only.
Work opportunities, a high-quality lifestyle, and a supportive state nomination program (ranges of concessions available) are all factors that make South Australia become the best state to study, work and migrate in Australia now.
For those skilled workers, this news is a door shut for them in chances of getting South Australia 491 nominations in this financial year 2021-2022.
However, we suggest waiting for further announcements on the additional quotas because you now have a good backup plan.
South Australia has proved that they had a very productive work in inviting 491 visa nominations. The number of invitations sent out is much higher than in NSW and Victoria (1436 invitations compared to 904 in Victoria and 811 in NSW for Skilled Visa 190 and 491 in November 2021). We can see that the competitiveness there is very high.
No doubt why the quotas for 491 have been running out so quickly, and most applicants will not get invitations until further additional allocations.
If you meet the eligibility criteria, lodge it ASAP, you will be invited soon after 1st July 2022 when the new quotas have been allocated to South Australia Government.
Please consider the 408 visa - Pandemic Event Covid-19 Visa if your passport expires soon. The new changes in Visa 408 Temporary activity Australia allow all workers currently residing and working in Australia to apply without any application charge.
Full details on The new changes in Visa 408 Temporary activity Australia here >