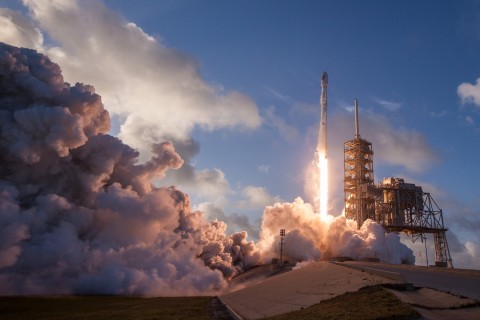 In the past month, the South Australian government has finalized some ground-breaking developments for the state. First, we witnessed the creation of a new visa, the SISA visa, which aims to attract an array of young dedicated entrepreneurs. Second, a massive contract has been signed to transform Whyalla steelworks industry. Most notably though, this morning Adelaide has been granted the headquarters for Australia's first dedicated space agency.
"This Is what vision looks like"
- Prime Minister Scott Morrison
The Space Agency
Australia's first dedicated space agency will be headquartered in heart of the Adelaide CBD, specifically Lot 14, the old Royal Adelaide Hospital. The new headquarters will be home to over 100 space industry experts and will help launch significant growth to the local Adelaide economy.
"This agency is going to open doors for local businesses … and will act as a launching pad to triple Australia's space economy to $12bn and create up to 20,000 jobs by 2030," said Steven Marshall.
Scott Morrisons dedicated space agency announcement came alongside a $41 million investment, "to open doors for local businesses and Australian access to the $US345bn global space industry".
It's important to remember that a space agency encompasses several different organizations and often does not necessarily emphasis just space exploration. Discussion of the new space headquarters have usually involved the terms defense and cyber within the sentence. This means there will be several openings for varied industry experts.
According to The Australian, South Australia is home to more than 60 organizations and 800 employees in the space ­sector. With that in mind, Steven Marshall went on to highlight that, "Establishing the headquarters of the Australian Space Agency in South Australia will launch our space and defense sectors to the next level."
Mr. Marshall told The Australian yesterday that long-term ­investment in Adelaide and its space sector would drive entrepreneurship and innovation while enhancing the city's livability.
"This agency is part of our plan for a stronger economy for South Australia and the country which is about delivering long-term, high-wage, high-skills jobs," said Mr. Morrison.
Whyalla Steel
On December 10, billionaire Sanjeev Gupta signed contracts worth more than $600 million and announced his plan to build the largest steel plant in the developed world right here in South Australia.
According to The Lead South Australia, the ambitious expansion plans are predicted to help Whyalla's population to grow from 22,000 to 80,000 in the coming years.
To accommodate the plant, "The City of Whyalla has also announced three major projects: a $145 million solar powered horticultural development; a $45 million 150-room hotel on the Whyalla foreshore, and; a $6 million organic recycling facility." (The Lead)
The $600 million is part of a transformation plan that will replace the current 60-year-old infrastructure including a new rolling mill. Once the plant is complete Gupta stated that he aims to, "increase production to 1.8 million tons, that is a fairly modest steel plant in the global context of steel."
The plant will produce high quality steal for products such as Australian railways and other global railway developments.
"What is critical is value-added steel, we make things that add value so we can specialise in things we can sell at a good price to sustain the business," said Mr. Gupta. (ABC news)
Prime Minister Scott Morrison commented, "What we're seeing here in Whyalla is our best days for manufacturing are here in front of us."
Supporting Innovation South Australia (SISA)
The Supporting Innovation South Australia (SISA) Visa, also referred to as The South Australian Entrepreneur Visa was opened on 21 November 2018 and will run until 30 November 2021. The visas the initiative is aimed at foreign entrepreneurs and investors with an innovative idea and a supporting business plan.
With short processing times, and a low application cost SISA is creating several opportunities for migrants, South Australia, and local economies.
The establishment of SISA highlights some of the positive developments in migration policy, as well as the dedication the South Australian government has to attracting new projects and people to grow the economy.
Still Some Work to Do
With all of these amazing announcements and positive developments, it is easy to forget that there are still plenty of major migration reforms being requested.
There are still some questions surrounding current migration policies and how they will provide enough access for skilled workers. For example, earlier this year the Skilling Australia Fund (SAF) Levy was implemented. The imposed SAF Levy meant that any business lodging an application after 12 August 2018 would have to pay the government an additional cost reaching up to $7,200 per employee. Now, many skilled workers are receiving interest from employers but the number of actual applications is very low. Simply, it's become almost too expensive for the average business to nominate a skilled worker and with all of the new opportunities arising in South Australia, it will be interesting to see what effect the SAF will have.
Another major issue we have been witnessing is that migrants applying for the Temporary Skilled Shortage (TSS) 482 visa are now required to have a minimum of 2 years work experience. Moreover, applicants for the Regional Sponsored Migration Scheme (RSMS) visa are now required to have a minimum of 3 years work experience.
All in all, this means it is tougher for applicants to meet the requirements to even apply for these major visas and due to SAF Levy it is more expensive for an employer to sponsor a foreign employee. Proof of the hardship on both sides is seen in the 20,000 less skilled, RSMS, and partner visas granted this year.
Comments From Chris Johnston
Overall, I am excited and welcome all of the positive announcements. I believe that the space station is going to provide amazing opportunity for the South Australian economy, Adelaide, and all of the residents. In the past decade, South Australia has seen its share of challenges that have had great impact on the state. Not too long ago, South Australia was home to Holden and Mitsubishi production plants but with their closure it left a lot of us wondering if SA would ever recover. Today, it's honestly an exciting time to live in Adelaide. All I hope for now is that the Federal migration policies keep moving forward.
While we have seen a fall in employer-sponsored visas, there are still opportunities for SA State Sponsorship through the 190 and 489 visas that provide access for skilled workers.
I am interested and a little concerned to see the effect these large projects will have on the small and medium businesses. Understandably, large projects attract the most qualified job applicants. This could mean smaller businesses may lose their top employees, but in most cases, it can create general skills shortages for certain occupations leaving these small businesses often unable to fill roles.
With that being said, I want to Congratulate South Australian Government on all of their efforts growing the state right direction. Obtaining the headquarters for Australia's first space agency is a feat that can not be overlooked.
Do you need help with an Australian visa application?
At Work Visa Lawyers we are experienced in assisting applicants in all matters relating to Australian visa applications. Our areas of expertise include Skilled Migration visas, Business Skills Migration visas, Employer Sponsored Work Visas, Partner and other Family Migration visas as well as Migration Review Tribunal, Judicial Review and Ministerial Intervention.
If you require further information regarding your Australia visa options you can contact us through:
(08) 8351 9956 or +61 8 8351 9956
or This email address is being protected from spambots. You need JavaScript enabled to view it.
Sources:
https://indaily.com.au/news/2018/12/11/marshall-to-push-for-bigger-sa-at-coag/
https://www.sbs.com.au/news/adelaide-beats-stiff-competition-to-host-australia-s-new-space-agency
https://www.theaustralian.com.au/national-affairs/new-space-agency-a-booster-for-marshall-government/news-story/f992e182d9a5b993906d4a1214059bc8
https://www.fiveaa.com.au/shows/david-and-will/Premier-Steven-Marshall-Was-Buzzing-About-The-Space-Station-On-FIVEaa-Breakfast-This-Morning
https://www.abc.net.au/news/2018-12-11/australian-space-agency-to-be-based-in-adelaide/10608202
https://www.migration.sa.gov.au/resources/faq/supporting-innovation-in-south-australia-sisa#02
https://immi.homeaffairs.gov.au/
https://www.abc.net.au/news/2018-12-10/whyalla-population-to-boom-as-sanjeev-gupta-embarks-on-upgrades/10599158