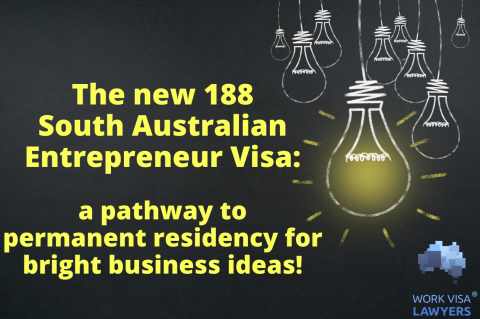 In September 2021 South Australia opened for applications for the 188 Entrepreneur visa and announced it had made some changes to the eligibility criteria which make it much easier to get. Previously this visa was limited to applicants who had already secured financial backing for their businesses but the new version is much more accessible. For the right person with the right business proposal, the Entrepreneur visa can offer a path to Australian permanent residency.
Background
The Business Innovation and Investment Program encompasses Australia's range of business and investment visas. It incorporates the 188 visa and all its sub-streams, and the 888 permanent visa. Once an applicant has completed their 5 year stay on the 188 visa, if they have fulfilled the obligations of their visa they may apply for the 888 visa which grants them permanent residency. There are multiple streams under each visa heading but today we're looking at the 188 Entrepreneur stream, also known as the Entrepreneur Visa - a visa for ambitious business people wanting to start an enterprise in Australia.
What are the Benefits of the 188 Entrepreneur Visa?
The Entrepreneur visa allows you and immediate members of your family to live and work in Australia. After 3 years you can apply for permanent residency and eventually, citizenship too.
Who Is Eligible?
To be eligible for the Entrepreneur Visa anywhere in Australia, you must meet the Federal Requirements. The Federal Requirements for the 188 visa are that you must:
Federal Requirements
Propose to undertake a business activity in Australia that will lead to the commercialisation of an innovative product or services in Australia
Have at least a competent level of English
Be nominated by a state
Meet the health and character requirements
Be under 55 years of age or be able to show your business will provide an exceptional economic benefit to Australia
Sign a values statement
Owe no debt to the Australian government, and
Not have previously had a visa cancelled or an application refused.
In addition to these, you must comply with any additional requirements of the state you intend to live in. The South Australian Requirements for the 188 Entrepreneur visa are that you must:
South Australian Requirements
Intend to live in South Australia
Propose your business be based in South Australia
Be nominated by a Service Provider, and
Provide a detailed proposal for your Australian business.
Who cannot Apply?
Unfortunately, holders of certain visas are deemed ineligible to apply for the South Australian Entrepreneur Visa. You will be immediately refused if you are a holder of a:
Student visa of any kind (including 500, 570, 571, 572, 573, 574)
403 Temporary Work visa, or
771 Transit visa.
Do I need to be in Australia to apply?
You can apply for the South Australian Entrepreneur visa from anywhere in the world! There is no need to be onshore.
Service Providers
In order to be eligible for the South Australian Entrepreneur Visa, you must be nominated by a Service Provider. These Service Providers are a group of organisations dedicated to working with new and growing businesses. The Service Providers are:
What Types of Business does South Australia Want?
The proposed business must be likely to, in the opinion of the Australian Government, achieve the 888 Entrepreneur visa criteria within 5 years. The criteria are divided into "Key Factors" and "Supporting Success Factors". You will need to demonstrate you are likely to meet either:
2 x Key Success Factors; or
1 x Key Success Factors and 3 Supporting Success Factors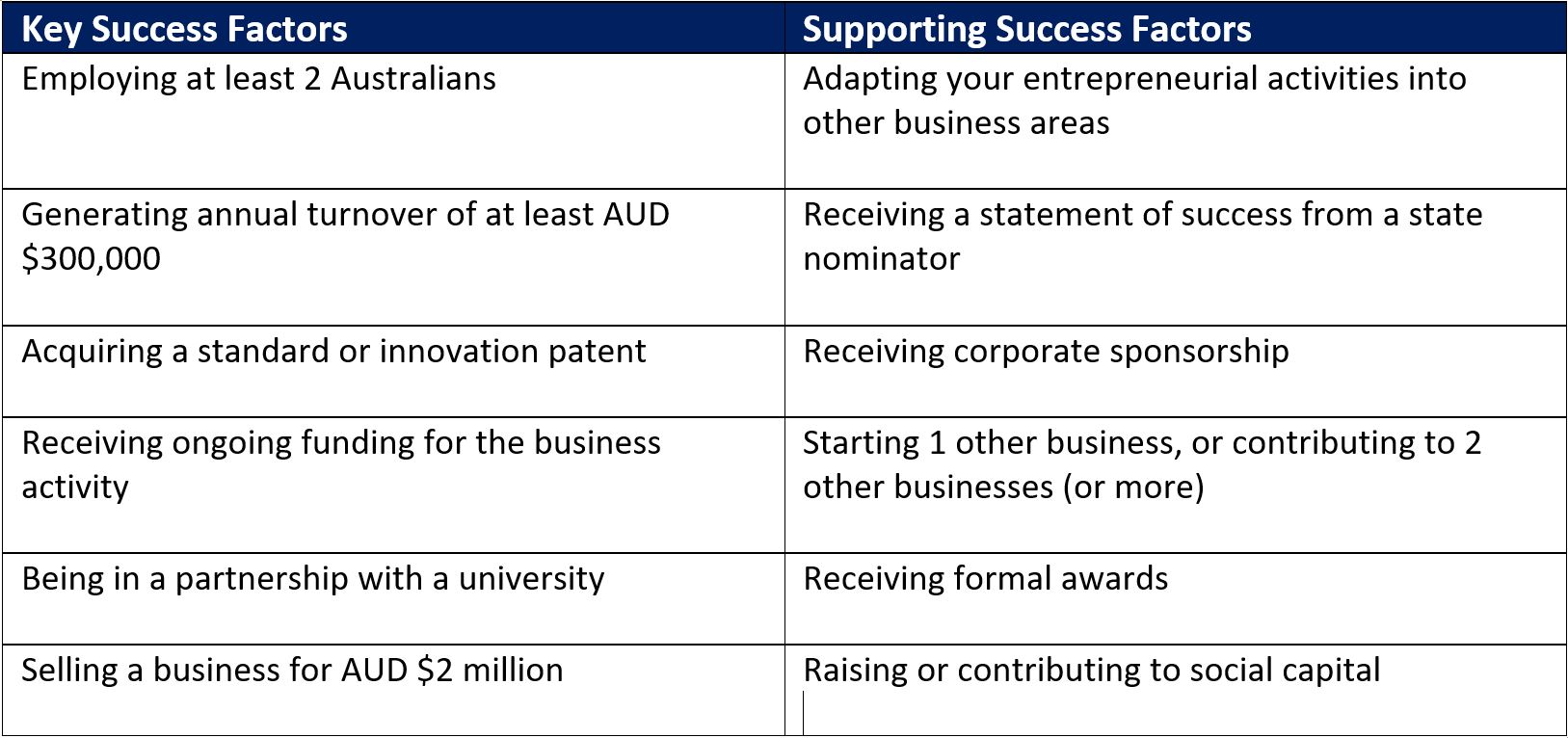 Remember, you don't need to already be fulfilling these criteria – you just have to show that you are likely to fulfil them in the next 5 years. As far as what your business actually does, it doesn't matter so long as it is likely to fulfil the criteria. There are 3 prohibited categories:
Labour hire
Residential real estate
Purchasing an existing business,
And of course, your business idea needs to be legal and ethical. So long as it fits the criteria and isn't one of the prohibited categories, it could be anything from creative arts to space technology!
What about states other than South Australia?
The only other state that is accepting applications for the 188 Entrepreneur visa outside of South Australia is New South Wales (NSW) however the criteria for eligibility are higher in NSW. In addition to meeting the Federal Requirements, the NSW Requirements are that you must:

New South Wales Requirements
Already have funding secured for your business project;
Funding must be secured from an approved entity (an Australian Government agency, publicly-funded research organisation, university, or an approved investor).
Be nominated by an approved NSW Startup Program;
Submit a detailed business proposal;
Commit to living and working in NSW; and
Have your business headquarters in NSW.
The difference here is that for an 188 Entrepreneur Visa in NSW, you must have already secured your funding. In South Australia, you need only show that you are likely to secure funding.
You can read more about the NSW program here.
How do I apply for the South Australian 188 Entrepreneur Visa?
The first step is to make an appointment to talk about your options with an experienced immigration lawyer or registered migration agent at Work Visa Lawyers who can go through the details of the 188 visa with you and make sure you are eligible, and that your intellectual property is protected. If you meet the criteria, the next step is to commence discussions with one of the approved Service Providers (above) as you will need one of these groups to nominate you if you are to receive the Entrepreneur Visa. If for any reason you do not meet the criteria, Work Visa Lawyers will assess your personal situation and advise what you need to do to qualify, or what alternative visa pathways might be available to you.
Being situated in Adelaide, South Australia, Work Visa Lawyers are uniquely positioned to help you with your South Australian Entrepreneur Visa application, and we would love to help you on your journey.
Author:
Chris Johnston, Founder and Principal Lawyer at Work Visa Lawyers
Disclaimer
While every care is made to ensure this information is correct at the time of publication, it is subject to change without notice. All information provided on this page is provided for purely educational purposes and does not constitute legal advice. For advice on your personal situation, please speak with an Immigration Lawyer or a Registered Migration Agent.
Sources
https://immi.homeaffairs.gov.au/visas/getting-a-visa/visa-listing/business-innovation-and-investment-188/entrepreneur-stream
https://migration.sa.gov.au/visa-options/business-and-investment-visas/business-innovation-and-investment-provisional-visa#nav-requirements
https://www.nsw.gov.au/topics/visas-and-migration/business-and-investor/subclass-188e