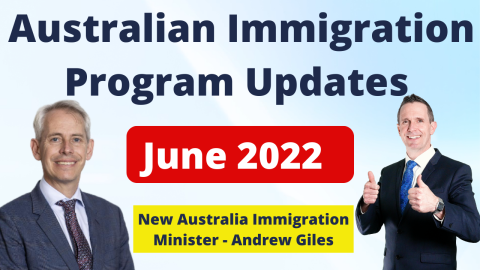 Latest Australian Immigration Updates after 1st July 2022 with 482 Visa, 485 Visa concession, Global Talent Visa, Working Holiday 462 Visa and 491 Visa>>
Work Visa Lawyers is proud to be a multi-lingual company with Lawyers and Agents who can speak Mandarin, Vietnamese, Punjabi, Portuguese, and Tagalog.
Overview of Australian Immigration in 2022 - Post-Pandemic Covid-19
2021 has been a tough year with many ups and downs due to the impact of Covid-19.
2022 begins with many new positive policies that welcome international students and skilled migrants.
Recently, the most significant event is the election result held on 21 May 2022. This article will share the latest updates on Australian Immigration during May and June 2022. Moreover, we will demonstrate what we see in the new labour government to the Migration Policy of Australia in the next few years.
Election Result and Migration Program
The winner is the Labor party with our new Prime Minister, Anthony Albanese.
A strong but fair migration policy offers education, jobs, prosperity, and citizenship, combined with opportunity, safety, security, rights, and responsibilities. It provides the perfect recipe for a better Australia.
Labour party also promised to ensure that they will favor permanent over temporary migration. They believe it is worthless for someone to be on a temporary visa and have no options for PR.
Prior to the recent federal election, Chris and our associate lawyer Luke attended a community event hosted by the shadow immigration minister Kristina Keneally and by local labor member Steve Georganas.
The speeches at this event gave some insight into potential labour policies should labour win the election.
Kristina Keneally listened to feedback from members of several communities including the local Afghan and Indian communities.
She acknowledges that the current Department of home affair was terribly backlogged in many classes of visas and was not performing well.
She also declared that the Department of home affairs would require a significant cultural rebuild to fit its purpose.
In terms of the policy, Labour favors permanent migration over a temporary basis.
Labour has concerns that temporary visas can leave the Visa holders exposed to potential exploitation. This may practically mean that labor May favor permanent visas such as the 189 visa, and visa 190. Especially for streams in Employer sponsored visa program 482 TSS or 407 Visa and 494 visa, employers may have a higher power to leave or keep the visa holders.
Labour has also traditionally been a greater supporter of family visas. There may be more favorable allocations to family visas in the future and some reform.
Kristina Keneally acknowledged that the parent Visa system was not functioning and would need reform. As it happens Kristina Keneally did not win her seat and will not be the immigration minister for labor.
On, 2nd of June, Australian PM Anthony Albanese has unveiled his cabinet. Andrew Giles will be Australia's new immigration minister. Andrew has also stated on Twitter that: "There is so much work to be done and essential to who we are and how we rebuild."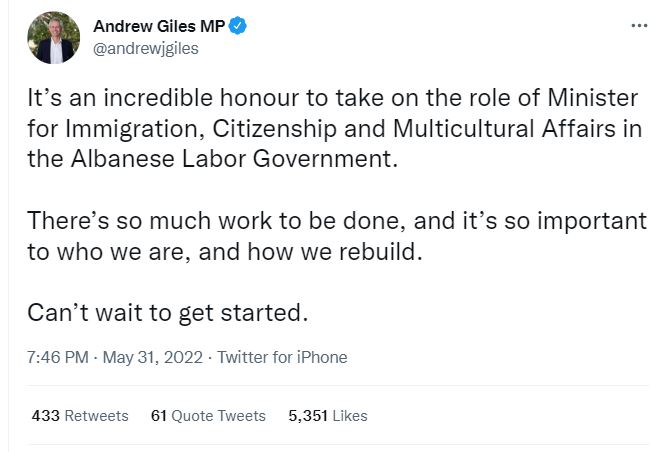 Andrew was the Shadow Minister for Multicultural Affairs. He was committed to bringing all Australians together; no one is held back or left behind. It is still no update on what Andrew will be doing to rebuild the immigration settings.
We look forward to bringing you the latest update on immigration policy as they are announced.
Skill assessment and Duration for Temporary Graduate visa 485 - Extends to 24 months
Following the announcement from Minister Hawke on 25 November 2021 that concession for Provisional skill assessment for 485 visas would be made.
Trades graduates will no longer need to get a provisional Skill assessment for a 485 visa after 1st July 2022. It practically means that there is no requirement of nominating an occupation during the application of the Temporary Graduate Visa 485.
However, Provisional skill assessment is still compulsory for full skill assessment for those occupations.
Moreover, it is temporarily announced that temporary graduate visa 485 holders will have a 24-month stay visa duration.
Look at all updates on Temporary Graduate Visa 485 in 2022 here >>
Skilled migration program update in June 2022 - This financial year ends in 30th June 2022
Visa 189 invitation rounds (Significant Increment)
Another big news from the skilled migration program of Australia is about Skilled independent visa 189 and family-sponsored visa 491
It has increased from 200 to 1000 at the last invitation round for 189 visas and 200 to 500 for 491 family-sponsored visas.
The positive news is that the government is putting more effort into the skilled migration program.
Skilled independent visa 189, the visa that we thought it has been ignorant during covid.
In only 3 months from the last round, it is about five times many more.
The Government is still focusing on public health sectors.
However, this brings hope to many skilled migrants who have been waiting for ages for their skilled visas.
Hopefully, this is the beginning of the more efficient process for the skilled migration program.
**
We are approaching the end of the migration program year
It ends on 30 June 2022
So at this time, many states or territories are running out of allocations for skilled visa 190 and visa 491.
The new program year takes place on the 1st of July 2022.
We highly recommend that you could get every document ready for a skilled visa, such as:
A skill assessment
English test
The best way is to seek migration advice from professional agents and lawyers to help you find out your best options.
Tasmania State Nomination Visa 491 and Visa 190
The Tasmanian Skilled Migration State Nomination Program now has only minimal nomination places remaining.
They now have enough on-hand applications to expand the full quota by the end of June 2022.
As a result, new applications are temporarily restricted to invited candidates only.
NSW State Nomination Visa 491 and Visa 190
Skilled Work Regional visa (subclass 491) RDA Far South Coast is now accepting OFFSHORE applications for subclass 491.
You must have a Registration of Interest ready to apply.
Please refer to the link above for their skilled occupation list for 491 nominations offshore.
ACT State Nomination Visa 491 and Visa 190
Due to the closure of the Australian border in a covid pandemic, many international students were unable to return to Australia.
However, you will still be eligible to claim Matrix points for ACT residency or study while living overseas.
ACT is open for the next invitation round to be held before 10th June 2022.
As of 11 May 2022, there were only 262 nomination places left for ACT
QLD State Nomination Visa 491 and Visa 190
The migration Queensland is now closed due to the nomination being filled for this program.
If you have not submitted it, you have to wait until the next financial year.
There is an exception for 491 Small business owner applicants who applied by Friday 6 May 2022.
Applicants who applied by the date will still receive the invitation.
However, the processing time could be up to 8-12 weeks due to the large demand of this stream.
Western Australia skilled migration program
Western Australia skilled migration has been allocated extra seats from March for their skilled visa 491 and Visa 190.
Another good news, WA just announced the eligibility criteria for their Skilled program in the next financial year and WA will accept offshore applicants.
There is also an expansion of occupations under the graduate stream Skilled Occupation list in Western Australia Migration.
Invitations to apply for WA will be via the ranking system.
Preference will be given to applicants who:
Currently residing in WA
Those in Australia
Offshore applicants
There will be 3 occupation lists in WA such as Schedule 1,2 and Graduate Occupation list.
Invitation for graduate list will not commence until the new program year.
Northern Territory State Nomination 491 and 190
The Northern Territory has now received additional 200 allocations for 491 visas in this program year
They will continue to receive and assess applications under exiting eligibility criteria
Please ensure you meet the eligibility criteria before you submit the application.
South Australia State Nomination Visa 491 and Visa 190
South Australia Skilled Migration program is close to meet 491 quotas
They will prioritize 190 visa nominations and candidates who have their 485 expiring soon
People who are working full-time should take this advantage to try putting in ROI for the program.
Please book an appointment with us for the best advice>>
South Australia Skilled Migration program closures for the 2021-2022 financial year
SA is going to close their skilled migration program including visa 188, visa 491, visa 190 as outlined below:
The upcoming program closure dates are:
Business Innovation and Investment Program (BIIP) – Business Innovation Stream (Subclass 188A) applications will close at 4pm, ACST, Thursday 9 June 2022

General Skilled Migration (GSM) Offshore Registration of Interests (ROIs) will close at 4pm, ACST, Thursday 9 June 2022

General Skilled Migration (GSM) Talent and Innovators Program ROIs will close at 4pm, ACST, Thursday 9 June 2022

Business Innovation and Investment Program (BIIP) applications for the following streams will close at 4pm, ACST, Monday 20 June 2022

Investor Stream (Subclass 188B)

Significant Investor Stream (Subclass 188C)

Entrepreneur Stream (Subclass 188E)

General Skilled Migration (GSM) applications will close at 4pm, ACST, Thursday 23 June 2022
Applications received prior to the closure dates will be assessed by 30 June 2022.
Global Talent Visa program in June 2022 - ACS / EA Nomination process
In the last 2 months, we have received a lot of inquiries and feedback about the difficulties in getting nominations from ACS and EA.
The Global Talent Visa program is increasingly popular that making the competition harder than before.
As a result, ACS and EA will only nominate applicants who they deem to be strong candidates.
The nominator is always a stumbling block for many talents who are interested in the Global Talent Visa Australia.
Moreover, the Department of Home Affairs prefers nominators with a high reputation in their area of expertise.
ACS and EA are peak industry bodies for their sectors.
We will make a video about how to be successful with ACS and EA nomination applications for the Global Talent Visa
But please remember that ACS or EA are the only options.
Sometimes, the more achievable nominator is an individual or a business.
Please try out the FREE Assessment tool to check your eligibility for the program in the link above
Business Visa Compare - Business Visa Australia 2022
If you are interested in getting Australian PR by investing or opening a business in Australia, Try Business Visa Compare tool.
Within 5 minutes, you will receive the best Australia Business and Investment visa options.
It has been successfully launched and used by many of our clients.
We also provide the service of giving you advice on what to improve to be eligible for that stream.
Don't miss your chance of getting your children the best education standard and the happiest life in Australia.
Agriculture Visa Update in 2022 - India as the next member to join
Congratulations to India as the next member of the Agriculture visa program after Viet Nam.
Quote from the minister: "We are also pleased that India has been invited to become a participant in the new Agriculture Visa after Vietnam signed last week. The Nationals fought hard for the visa and farmers would welcome India's participation."
There are plenty of news on the potential elimination of Agriculture visa if Labor takes place.
However, there is no more official update from DFAT for the Agriculture visa application process.