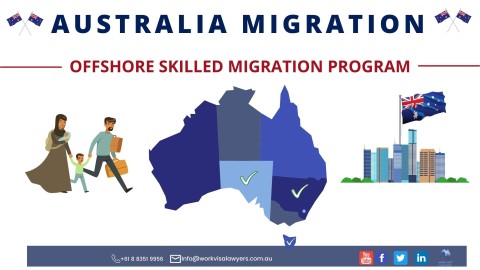 With the opening of Australia Border, some States and Territories are opening their offshore state sponsorship program. Applicants from outside of Australia may be able to get a nomination for a 491 or 190 Visa.
What Visa Can I Get In State Nomination?
Depending on your occupation, you will be applying for a 491 Visa (also known as a Skilled Work Regional (Provisional) visa) or a 190 Visa (also called the Skilled Nominated visa).
The 491 visa allows you to:
Live and work in regional areas of Australia.
Bring members of your immediate family with you; and
Apply for permanent residence after 3 years.
The 190 visa allows you to:
Live and work in Australia.
Stay in Australia permanently
Sponsor your family members to come to Australia.
For more information about General skilled migration and state nomination, please read here.
---
South Australia State Nomination – GSM Offshore
Being the friendliest state in Australia in issuing state nomination 190 and 491, South Australia started offering offshore invitation in July 2021. It extended its offshore state sponsorship occupation list in September 2021 to cover several popular occupations, including:
Professional occupations (Marketing Specialist, Sales manager…)
Trade occupations (Agriculture and Construction sectors)
Engineering occupations
To know more about the South Australia Offshore Occupation List, please click here
South Australia has been the most productive states in issuing skilled visa invitations both onshore and offshore. However, it is deemed that the selection criteria for oversea applicants is quite high to be satisfied in some professionals occupations such as Marketing Specialist, Civil Engineers. But there are a few trades occupations, Hospitality or health and medical occupations have been made easier and more reasonable for offshore applicants.
General requirements are:
You must have 2-8 years work experience at least in your nominated occupation.
Competent-Superior English level unless you hold an eligible passport from a country where the primary language is English (the United Kingdom, the United States of America, New Zealand, Ireland and Canada)
You must score at least 65 to 85 points for the Skilled Work Regional visa (subclass 491) in the Department of Home Affairs' points test.
Some Occupations are able to access Skilled Visa 190 nomination now from offshore.
Talk to our Immigration Lawyers and Registered Migration Agents who are specialised in South Australia Immigration for your best advice.
Please book appointment here >
New South Wales state nomination – GSM Offshore
Offshore candidates skilled in occupations within some ANZSCO unit groups are eligible for NSW 190 or 491 nominations from December 2021. Other than popular occupations (e.g., Nurses, Engineers, Social Workers), New South Wales are also welcoming offshore candidates who holds valid skills assessment and have resided outside Australia since the last 3 months.
Many candidates have been waiting for this news for a long time since South Australia has made their first shot. However, up until last December, NSW has officially announced this program for offshore applicants with its NSW occupation list and additional requirements for the next invitation round.
You must have a minimum 3-year work experience in your nominated or closely related occupation for occupations within some ANZSCO unit groups.
It may sound simple based on the only 2 requirements shown by the state. However, the competitiveness is high since there are a lot of applicants in the pool and NSW government will of course choose the best one out of it.
Read more about NSW State Nomination 190 or 491
ACT state nomination – GSM Offshore
Following New South Wales and South Australia offshore migration program, Australian Capital Territory has opened their skilled migration program for Overseas applicants under Skilled Work Regional Visa 491 and Skilled Nominated Visa 190.
Offshore skilled applicants who have at least 3 years full time, post graduate work experience can now access the ACT Critical Skills List and seek nomination from ACT.
There are certain requirements from 190 and 491 nomination in ACT skilled migration program. Most of those are similar, except employment criteria.
For applicants who seek for ACT 491 nominations, they have to research the ACT labor market to prove their ACT employability after getting visa. An employment statement explaining the research undertaken and confirming that you are employable in Canberra is required.
Others who seek for ACT 190 nominations, You have a full time job offer in your nominated occupation. The position must be in Canberra and be available for at least two years. The employer:
must be a medium to large Australian enterprise (50 plus employees) actively trading in Canberra.
cannot be trading from a home, online or serviced office.
must have a genuine need to employ an overseas skilled worker.
must demonstrate that the position is relevant to the business; and cannot be filled from the local labor market.
Read more about ACT State nomination offshore !
Tasmania State nomination – GSM Offshore
Occupations from the Tasmanian Skilled Occupations List are currently open for all nomination categories, including Overseas Applicants.
There are 2 categories for Tasmania skilled migration program for offshore applicants
Overseas Applicant (TSOL) requirements: applicants who have satisfied their requirements listed in TSOL will be eligible to apply for Category 3A. Refer to the list here:
Applicants who have a job offer in an area related to the TSOL must have a Skills Assessment in that area and should meet the additional English and registration / experience requirements listed for that occupation on the TSOL.
Both streams have a requirement of not living in other states in the last 12 months.
Victoria and West Australia remain closed to offshore applications.
Source:
https://www.nsw.gov.au/topics/visas-and-migration/skilled-visas/nsw-skilled-occupation-lists
https://www.act.gov.au/migration/skilled-migrants/act-critical-skills-list
https://www.migration.tas.gov.au/skilled_migrants/skilled_regional
Tasmania Skilled Occupation List for Overseas applicants:
https://www.migration.tas.gov.au/__data/assets/pdf_file/0018/301167/TSOL_Tasmanian_Skilled_Occupations_List_2021-22_Aug_2021.pdf