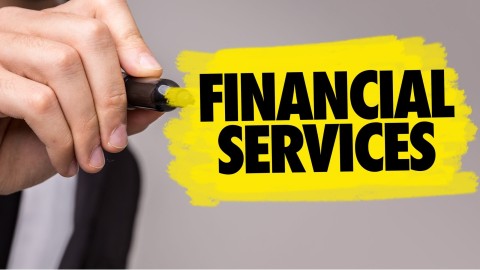 Overview of the current Global Talent Visa program
The Global Talent visa is aimed to target high achievers in the following 10 target or priority sectors:
Resources
Agri-food and AgTech
Energy
Health Industries
Defence, Advanced Manufacturing and Space
Circular Economy
DigiTech
Infrastructure and Tourism
Financial Services and FinTech and
Education
However, some sectors are more popular than others.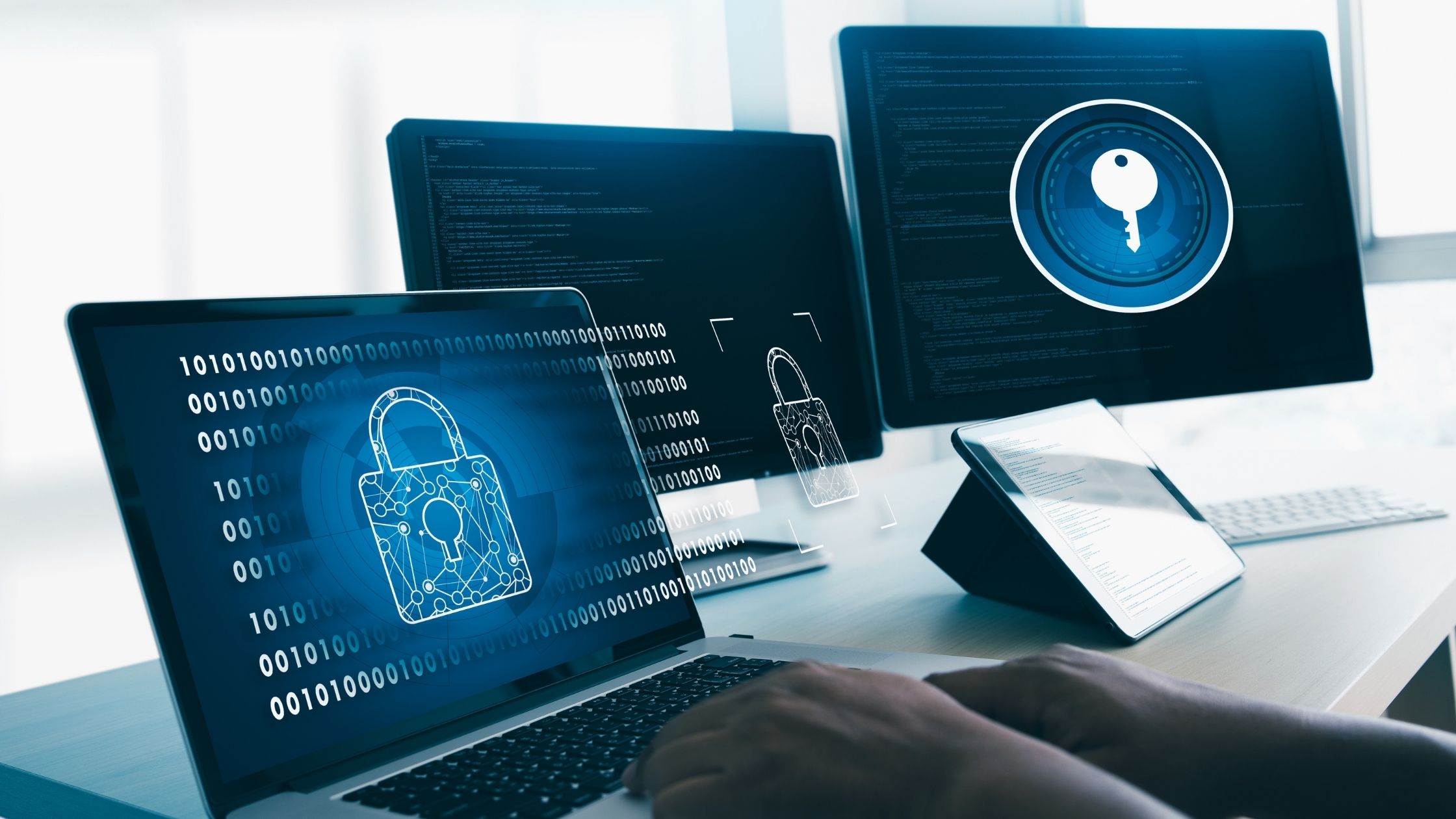 According to the figures released by the Department of Home Affairs, around this time last year, there were 920 Expressions of Interest (EOIs) submitted to the Department in February 2021. The sectors with the most number of EOIs submitted are:
Digitech with 275 EOIs;
Health industries with 177;
Energy and Mining Technology with 112;
Financial services and Fintech with 108; and
Agri-Food and Agtech with 65.
In November 2021, there were 184 EOIs submitted, and the top sectors are:
Digitech;
Financial services and Fintech;
Education;
Health Industries; and
Energy and Mining Technology.
Overall, the data from the Department shows that the sectors listed above are the ones that consistently get the most EOI submissions in Global Talent Visa program.
Statistics from Department of Home Affairs about Global Talent Visa program
Therefore, it is no surprise that most of the Global Talent (subclass) 858 visas granted come from the above sectors. In November 2021, about 340 Global Talent visas were granted; 119 were from the Digitech sector. The chart below shows that the greatest number of visas granted from July 2021 to November 2021 is in the Digitech sector.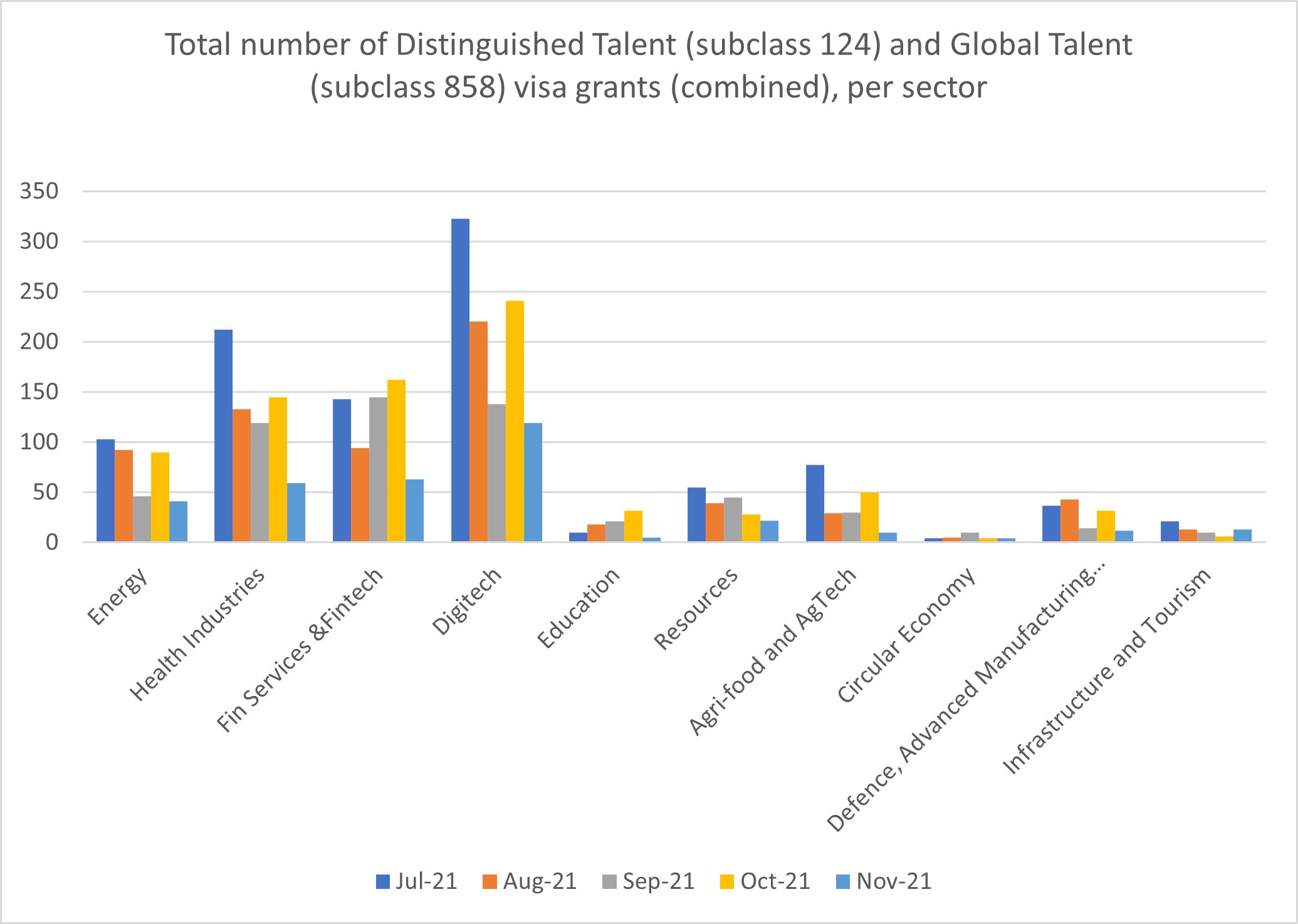 Source: Department of Home Affairs
The number of Expression of Interests (EOI)s invited/not invited/on hand; breakdown by the month when the EOI was submitted, including the sector in August 2020, December 2020, August 2021, and November 2021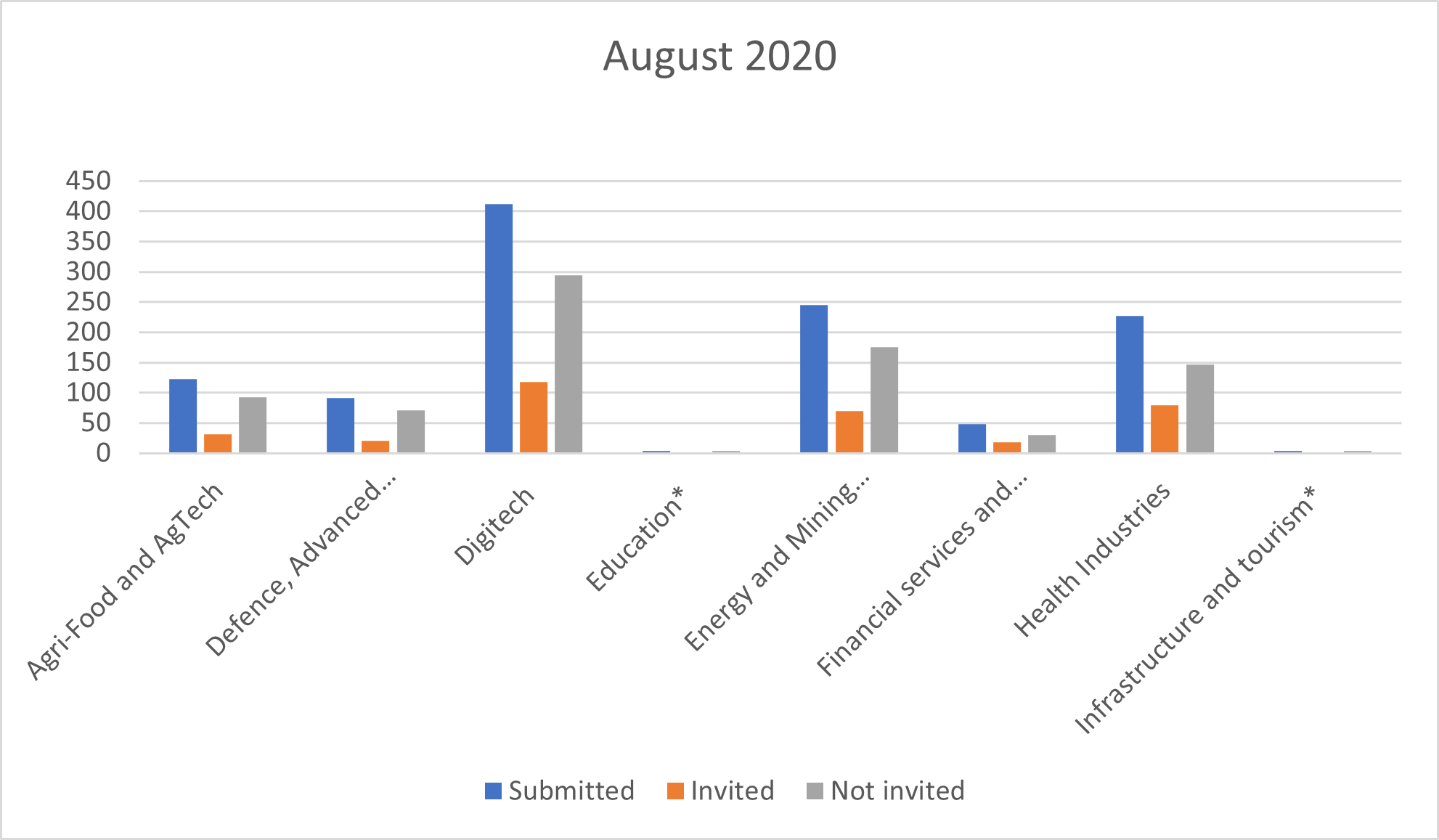 *Less than 5 EOIs were submitted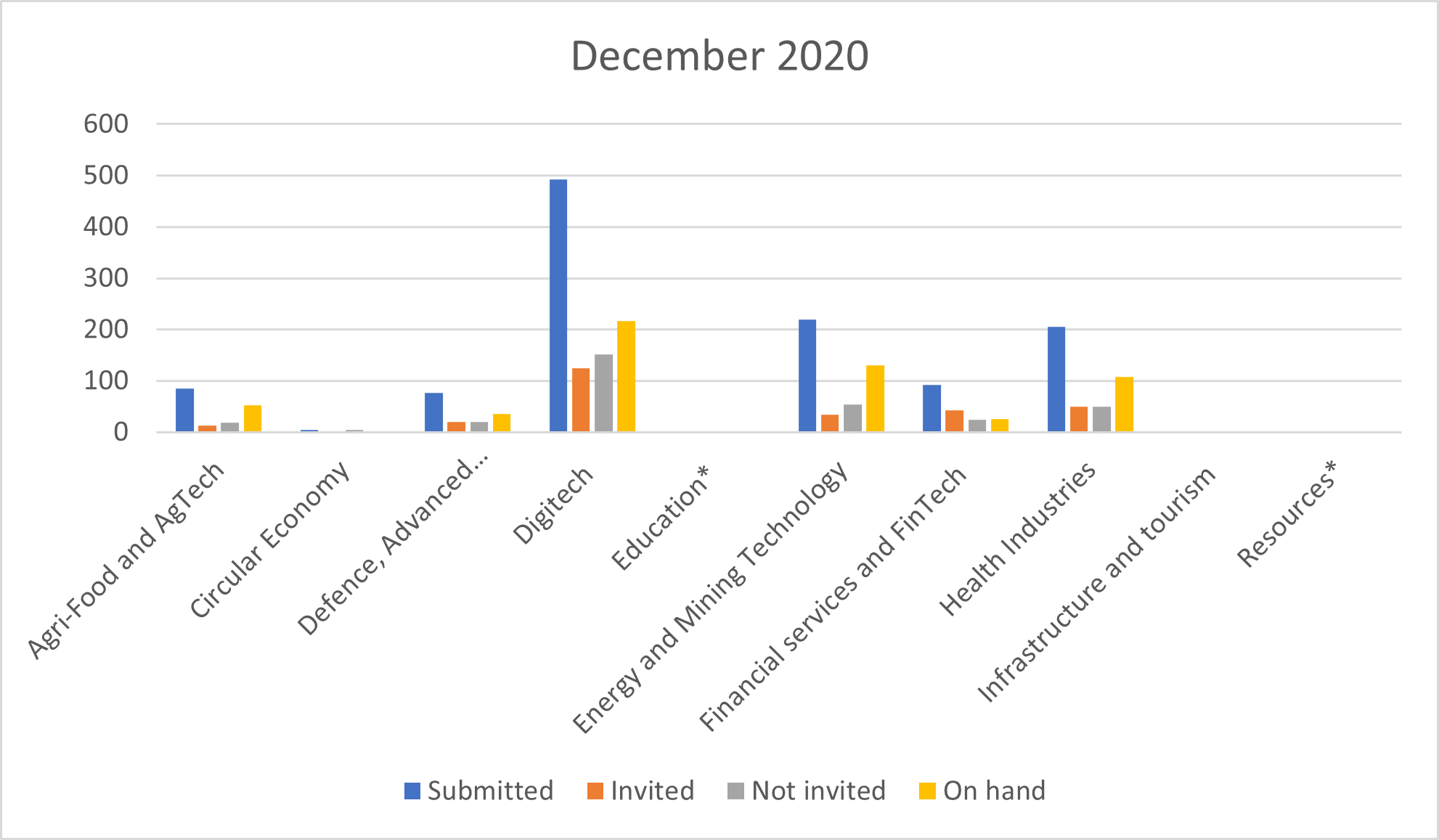 *less than 5 EOIs were submitted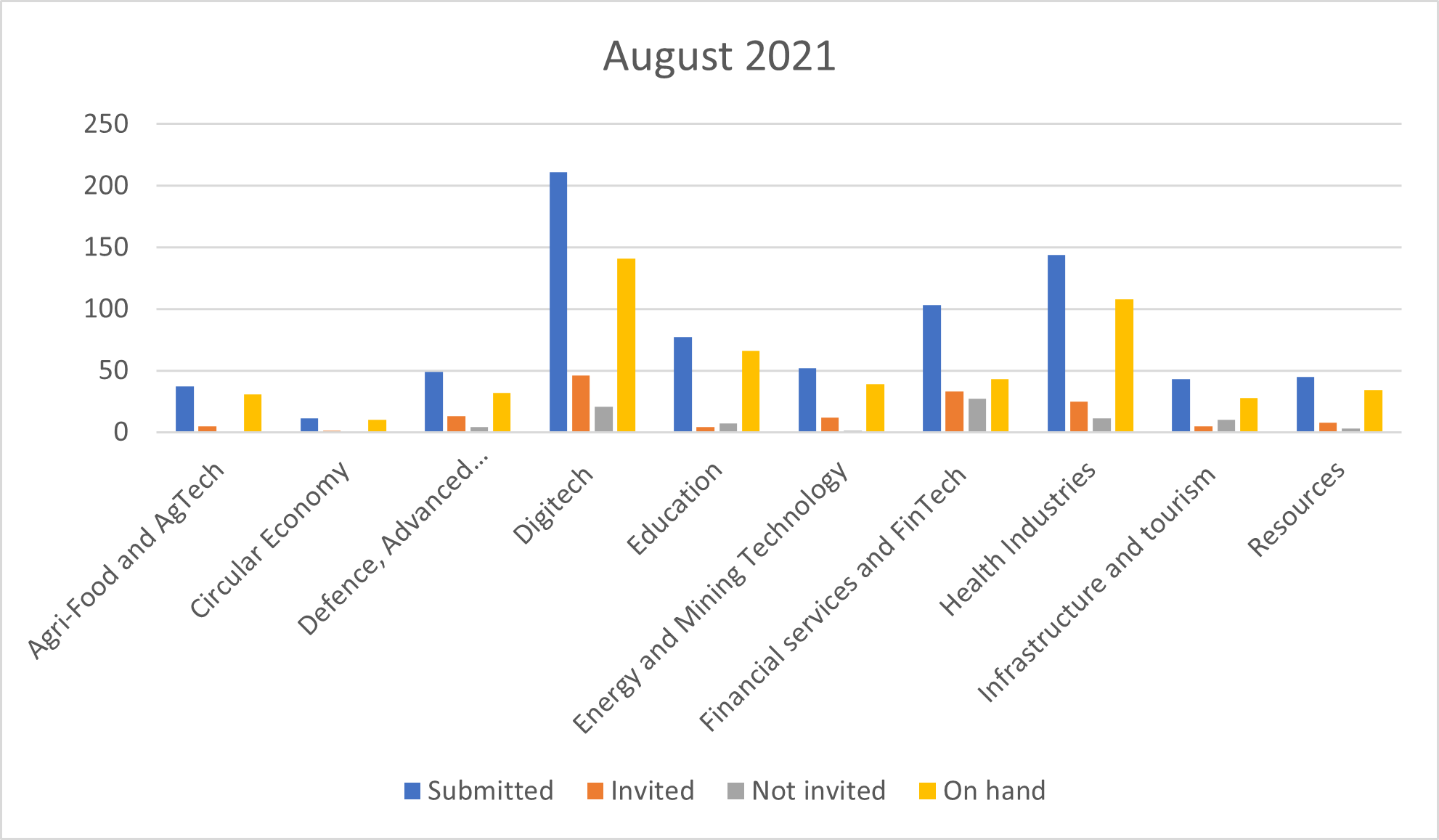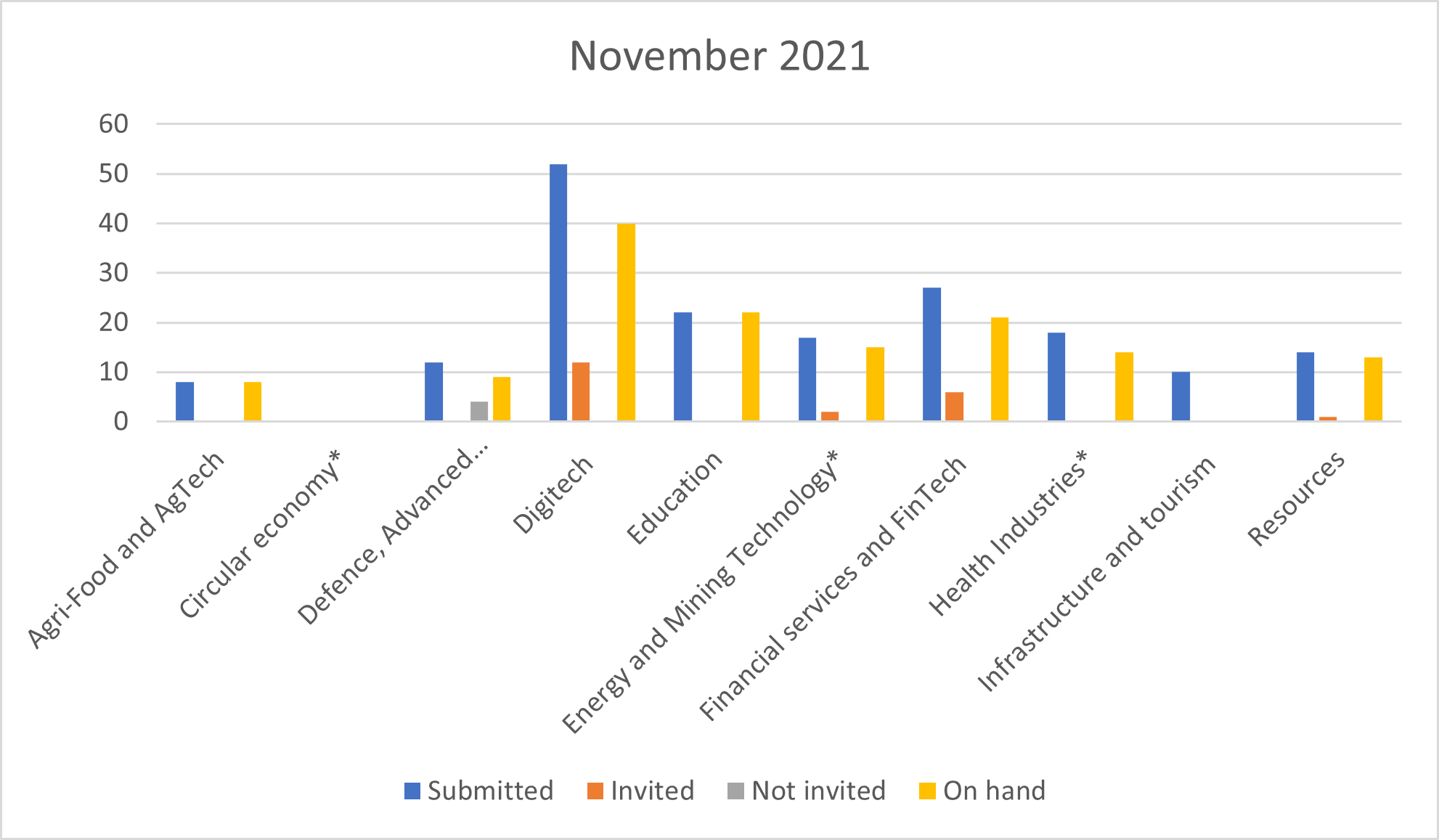 *Figures were less than 5
Source: Department of Home Affairs
At Work Visa Lawyers, we constantly receive submissions of our free Global Talent Assessment tool. The most popular sectors are among those mentioned above: DigiTech, FinTech and Financial Services, Health, Education, and Renewable Energy.
Those sectors have a group of talented workers who can be an excellent asset to Australia. The overall aim of the Global Talent Visa program is to find talents around the world who can bring commercial benefit to Australia.
The above data gives us an idea of how many people per sector are submitting their EOIs and visa applications for the Global Talent Visa. The more popular the industry, the more competitive it can get. This highlights the importance of submitting a good quality EOI to increase your chances of getting an invitation. You can find more information about the Global Talent Visa and some tips on how to improve your EOI here.
If you want to know if the Global Talent Visa is for you, you can complete our free Global Talent Assessment Tool.
How can Work Visa Lawyers help with your Global Talent Visa 858?
Work Visa Lawyers is highly experienced in all parts of the Global Talent visa application process. We are able to assist with all aspects of the application, and can also provide advice in relation to:
- Check your eligibility for a Global Talent Visa
- Use documents to demonstrate your skills and ability to attract salary to be above the income threshold at $158,500
- Suggestions on nominators if you do not currently have one. Please note that we will not involve in the process of requesting for the nomination.
Work Visa Lawyers will provide an eligibility assessment before advising you to proceed with a visa application.
Our team of experienced Immigration Lawyers and Migration Agents look forward to assisting you with your Australian visa or appeal.
Based in Adelaide South Australia, we provide Australian Immigration advice to people and businesses from all over the world.
If you think you might be suited to a Global Talent Visa, you can take the GTV free assessment on our
website, and remember to follow our channel so you get all the latest updates.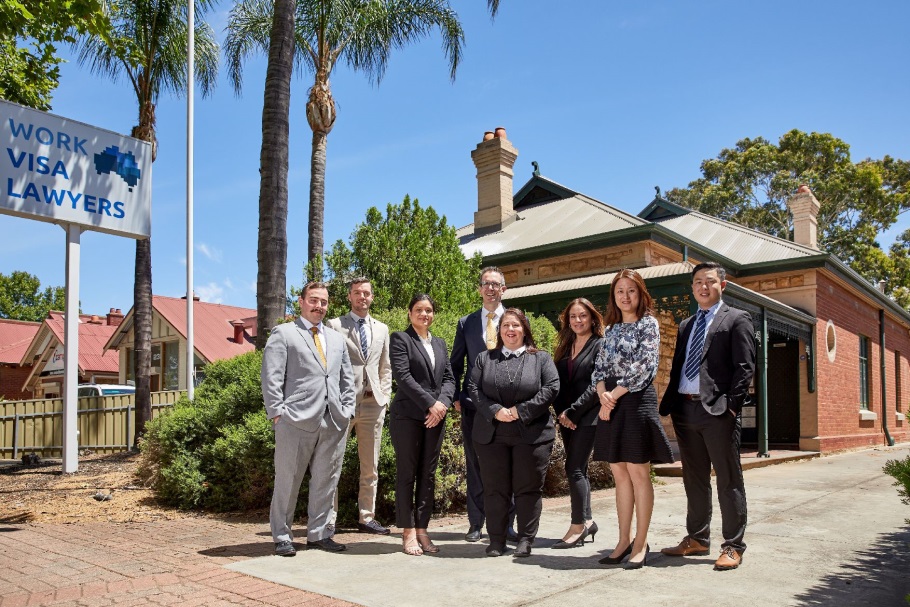 Book an appointment with one of our experienced Immigration Lawyers and Registered Migration Agents here.
Contact us on (08) 8351 9956 or +61 8 8351 9956 or This email address is being protected from spambots. You need JavaScript enabled to view it.
Free online Global Talent assessment
If you think you are eligible to apply for a Global Talent Visa, it only takes 5 minutes to complete our free online Global Talent assessment form and our lawyers and registered migration agents will assess your eligibility and get back to you.
Resources:
https://www.homeaffairs.gov.au/access-and-accountability/freedom-of-information/disclosure-logs/2021