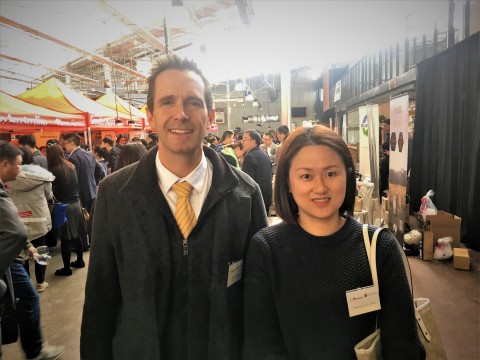 Work Visa Lawyers was pleased to accompany some of our business visa holders to the ACBC South Australian & Immigration SA Central Adelaide Trade Showcase. We would like to thank Immigration SA, as well as the China Business Council (ACBC), and KPMG for hosting the fantastic event.
The event provides many opportunities for South Australians as well as migrants. South Australian businesses are able to connect with other business owners and showcase their product, while migrants on a business visa subclass 188 or subclass 132 have the option to invest in or export the South Australian products to fulfill their visa requirements. During their time at the Trade Showcase, Chris Johnston and Wendy Guan were honored to meet with three outstanding South Australian businesses; Blue Lake, Bickford & Sons, and Spencer Gulf Hiramasa Kingfish (Clean Seas).
Blue Lake Dairy
Blue Lake Dairy Group Pty Ltd was established in 2015 in the pristine clean heart of the Green Triangle agricultural region in the South East of South Australia.The Blue Lake Dairy Group plant is the first and only milk powder producing plant in South Australia and the most technologically advanced milk powder packing plant in Australia.
Blue Lake Dairy uses state of the art plant specializes in developing market-ready milk powder products for local and overseas markets. Using advanced robotic and fully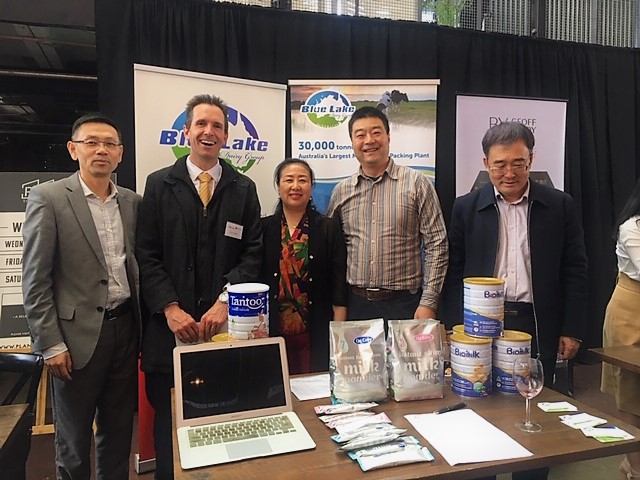 computerized quality assurance systems on our production line we can offer exceptionally high standards of manufacture.
The Blue Lake Group produces a number of high-quality products including:
Infant Formula
Bio Milk
Junior Formula
Female Formula
Pregnancy Formula
Middle Aged & Elderly Formula
Full Cream/Skim Milk Powder
We believe that Blue Lakes infant formula will be in great demand for export to the Asian markets.
Bickford & Sons / 23rd Street Distillery
For almost 150 years now Bickford & Sons have been proudly producing a premium range of exhilarating beverages with superior quality and taste, including their new
range of premium classic mixers including Ginger Ale, Tonic Water, and Quassia Bitter Lemon. Today, Bickford & Sons continues to make fine non-alcoholic beverages/mixers showcased along side alcoholic beverages from the 23rd Street Distillery.
23rd Street Distillery is the new incarnation of a century-old landmark at Twenty Third Street, Renmark, in South Australia's fertile Riverland. Chris Johnston can personally attest to the superior quality of 23rd Street Distillery's products and how well they combine with Bickford & Sons signature drinks. The distillery offers a variety of alcoholic beverages charting old-school craftsmanship including:
Signature Gin
Barrel Aged Gin
Navy Strength Gin
Not Your Nannas Brandy
Prime 5 Brandy
Hybrid Whisk(e)y
Riverland Rose Vodka
Australian Vodka
Spencer Gulf Hiramasa Kingfish (Clean Seas)
Clean Seas was formed by The Stehr Group in 2000 and was publicly listed in 2005. Clean Seas initial purpose was to propagate and grow Southern Bluefin Tuna, however, its secondary endeavor with regionally indigenous Kingfish became highly prized in its own right. As a consequence, Clean Seas refocused its efforts on sustainable production of Hiramasa Kingfish.
Today, Clean Seas is the global leader in full cycle breeding, production, and sale of Yellowtail Kingfish and is renowned worldwide for its exceptionally high-quality fish. The company is recognized for innovation in Yellowtail Kingfish farming and has become the largest producer of aquaculture Yellowtail Kingfish outside Japan.
The Spencer Gulf Hiramasa Kingfish brand is featured on menus in many of the best restaurants in the world including: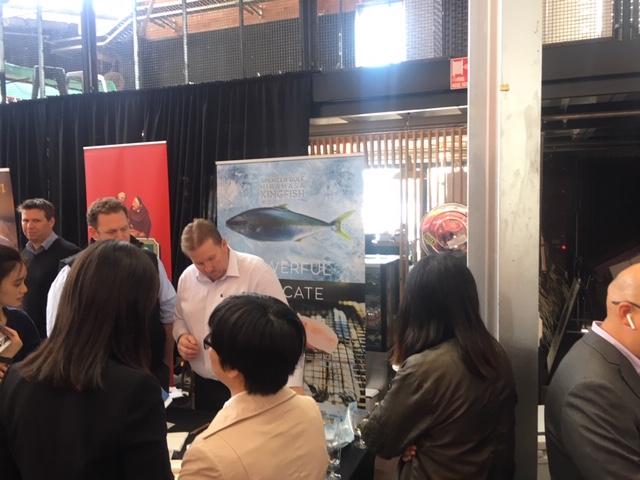 Melbourne
Sydney
Milan
NYC
London
Zurich
Paris
Los Angeles
Toronto
Berlin
Geneva
Thank You
Again, we would like to share our appreciation with everyone who made the ACBC South Australian & Immigration SA Central Adelaide Trade Showcase possible. Work Visa Lawyers is confident the event and assist in furthering the growth of South Australia. We would like to wish every company we spoke with including Blue Lake, Bickford & Sons, and Clean Seas best of luck in their future endeavors.