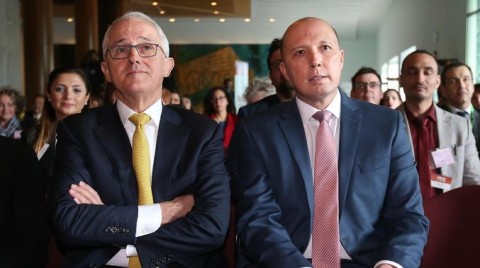 Prime Minister Malcolm Turnbulls victory leads to the resignation of Peter Dutton.
In a Liberal party room meeting, Peter Dutton challenged Malcolm Turnbull for the Liberal party leadership, losing 48-35 after the prime minister called a spill. Peter Dutton has resigned from his Cabinet position, and will now sit on the backbench.
"He said to me he doesn't feel he can remain in the Cabinet having challenged me for the leadership of the party, and so he is resigning." – Mr. Turnbull on Mr. Duttons resignation.
Treasurer Scott Morrison will serve as interim Home Affairs Minister "pending other arrangements," Mr. Turnbull announced. Julie Bishop was also appointed the deputy position after running unopposed.
The narrow victory has left plenty of room for ongoing discussion concerning the possibility of Mr. Dutton of challenging Mr. Turnbull for Prime Minister. This morning's vote confirms that Mr. Dutton has a significant conservative backing to replace Mr. Turnbull as PM.
We have been urged to expect more resignations, possibly form other frontbenchers, adding to the current but temporary sense of chaos within the government.
What Does This Mean for Australia's Migrants
Prior to his resignation today, Peter Dutton was the Minister for Home Affairs and The Minister for Immigration and Border Protection. Mr. Dutton has been responsible for a number of changes within Australian migration since being sworn in December 2017, including the tougher vetting procedures we have seen. Click here read more about Mr. Duttons migration impact.
Responsibilities for the position of Minister for Home Affairs and The Minister for Immigration and Border Protection are not limited to but include:
Overall strategic management of the portfolio, its agencies and budget
Counter terrorism and organized crime strategy
Counter espionage and foreign interference
Migration and refugee/humanitarian programme settings
Portfolio intelligence arrangements (Including visa risk assessment system)
Visa cancellations for very serious offenders, national security, and exceptional cases
After winning the vote, Mr. Turnbull resigned as leader at the start of the meeting to prompt a vote to test the support of his opponent. Scott Morrison has been selected to act as interim Minister for Home Affairs and The Minister for Immigration and Border Protection in Mr. Duttons absence.
Mr. Morrison has held the role of Minister for Immigration and Border Protection having previously been appointed in 2013, where he was responsible for implementing Operation Sovereign Boarders.
Keep in mind that this may also lead to more responsibility for Alex Hawke and Alan Tudge. Mr. Hawke has served as the Assistant Minister of Home Affairs since December 2017. Mr. Tudge is the Minister for Citizenship and Multicultural Affairs and has been one of the more active members within the migration sector.
Do you need help with an Australian visa application?
At Work Visa Lawyers we are experienced in assisting applicants in all matters relating to Australian visa applications. Our areas of expertise include Skilled Migration visas, Business Skills Migration visas, Employer Sponsored Work Visas, Partner and other Family Migration visas as well as the Administrative Appeals Tribunal (AAT) Review, Judicial Review and Ministerial Intervention.
If you require further information regarding your Australia visa options you can contact us through:
(08) 8351 9956 or +61 8 8351 9956
or This email address is being protected from spambots. You need JavaScript enabled to view it.
Sources
We do not own the rights to the picture above.
https://www.homeaffairs.gov.au/about/corporate/ministers
https://minister.homeaffairs.gov.au/peterdutton/pages/welcome.aspx
http://www.abc.net.au/news/2018-08-21/politics-live-malcolm-turnbull-sees-off-peter-dutton-challenge/10146280
https://www.westernadvocate.com.au/story/5597429/malcolm-turnbull-wins-ballot-in-leadership-spill-julie-bishop-to-retain-deputy/
https://www.theguardian.com/australia-news/2018/aug/21/malcolm-turnbull-survives-leadership-contest-peter-dutton
https://www.theguardian.com/australia-news/malcolm-turnbull
https://www.theguardian.com/australia-news/live/2018/aug/21/liberal-leadership-dutton-turnbull-energy
http://www.abc.net.au/news/2018-08-21/malcolm-turnbull-survives-leadership-challenge-from-peter-dutton/10146574
https://www.news.com.au/national/politics/who-are-the-35-people-who-turned-on-malcolm-turnbull-and-voted-for-peter-dutton/news-story/c9b94f7f10d46e8b955b157668f0650c
https://www.workvisalawyers.com.au/news/all/20-000-less-skilled-rsms-and-partner-visas-granted-due-to-new-integrity-measures-from-australian-immigration-department.html