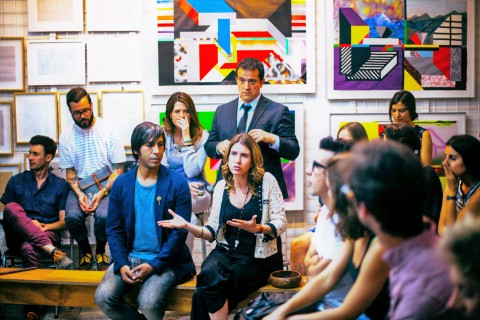 The Australian Government has announced that they have created a new taskforce, the "Global Business and Talent Attraction Taskforce", to bring business and skills to Australia.
This was announced on ABC News, and repeated by Minister Tudge in a tweet this morning (5 September 2020).
The Shepparton news reported that Peter Dutton told Nine News "It's OK that we've got support in place at the moment with JobKeeper and JobSeeker - that's fine and that's a good thing - but to get to the next stage we need to have investment."
---
Minister Tudge placed heavy emphasis on the benefit of this Taskforce for Australian employment opportunities in his interview with ABC AM earlier this morning. It will combined efforts of:
AusTrade
State governments
The Department of Home Affairs
The AFR has reported that the Global Business and Talent Attraction Taskforce will be led by Peter Verwer, previously the boss of the Property Council of Australia.
A working target for the Government is 1,000 or so such businesses.
Global Business and Talent Attraction: A new pathway to Australian permanent residence?
Along with the new The Global Business and Talent Attraction Taskforce comes a new webpage.
The main focus of the new Global Business and Talent Attraction Taskforce appears to be targeting the Moby Dicks of the business world, attracting very large businesses to be the next Atlassian or Canva.
As a whole of Government approach, the target businesses are likely to received prioritised processing and higher service standards than applicants through other pathways.
We expect that the announcement of the Taskforce will lead to an increased focus on the Global Talent Independent visa, as well as continued focus on the business and investment visa programs, such as the 188 visa and 132 visa. The Global Talent Employer Sponsored program is likely to be a key to helping these businesses fill labour needs where Australians are not available to fill the roles.
Expression of Interest for Global Business and Talent Attraction Taskforce
While the Global Talent Independent visa Expression of Interest is still available, the Government has released a new expression of interest for The Global Business and Talent Attraction Taskforce. The new expression of interest is more open-ended and does not indicate any strict requirements.
Benefits of the Global Business and Talent Attraction Taskforce
The Global Business and Talent Attraction Taskforce is intended to provide:
Faster and easier access to Australian permanent residency
More hands-on support for (prospective) migrants
Advice and information to assist with the migration process
One direct contact who will assist in liaising with several areas of Government to provide a "whole of Government" package
Requirements for the Global Business and Talent Attraction Taskforce
The Global Business and Talent Attraction Taskforce has indicated it is looking for:
Top tier business leaders
Globally talent professionals
The new taskforce has not indicated any clear requirements.
The expression of interest does not request any income or salary details and does not have a list of target sectors to choose from.
As such, the Global Business and Talent Attraction Taskforce appears to be more open-ended than the Global Talent Independent visa program, which has 7 key target sectors and requires a salary (or potential salary) of AUD $153,600.
For businesses, it has been indicated that there will be a focus on "high yield businesses". We expect that this might include businesses such as:
Consulting businesses
Marketing businesses, including digital marketing
IT and software development businesses
Corporate and professional services businesses
Financial businesses
This also indicates that the Department will be less interested in "high capital" businesses, such as manufacturing businesses.
Hong Kong and Global Talent - Where will the centre of Asia Business Be?
The Australian Government in many of its announcements has indicated a strong intention to attract business and talent from Hong Kong to move to Australia.
Hong Kong has been a key hub of business and trade in the Asia Pacific (APAC) region. Australia seems to be looking to strengthen its position as such as hub in its own right, by attracting key players from Hong Kong to Australia.
Sydney, Australia has been highlighted as one of the top 10 cities for business in Asia Pacific. It is likely that this will continue to be a focal point for businesses looking to set up headquarters in Australia.
Other recent Global Talent visa initiatives
There are a range of recent initiatives already put in place by the Australian Government to attract and retain global talent. These are likely to form a part of the Taskforce's initiatives to bring business and skills to Australia.
Global Talent Independent Visa
The Global Talent Independent visa is a thriving category which has been seeing more attention in recent months.

Established in November 2019, it has a yearly allocation of 5,000 positions to attract global talent to Australia from the following target sectors:
AgTech
Space and Advanced Manufacturing
FinTech
Energy and Mining Technology
MedTech
Cyber Security
Quantum Information, Advanced Digital, Data Science and ICT
This forms a part of the 3 visa products highlighted for global talent attraction.
A recent FOI disclosure indicated that 100% of 38 visa applications for global talent from offshore were approved, and that there were 144 onshore 858 visa approvals out of 162 lodgements. It is not clear exactly what period of the program these statistics relate to.
Global Talent Employer Sponsored
A substantial, but less talked-about program is the Global Talent Employer Sponsored program. This program might support the labour needs of the big businesses which the Australian Government is hoping to attract to Australia with the new Global Business and Talent Attraction Taskforce.
South Australia pushing for Innovation and Global Talent
South Australia has identified itself in the Australian market as a strong contender for business innovation and headquarters for Hi-Tech developments. There are several programs pushing to develop this further.
Key Growth Sectors for South Australia
South Australia has a number of significant industries which, while many have been impacted by the COVID-19 pandemic, will continue to be important to the growth of South Australia going forward.
These include:
Tourism
International education
Defence industry
Food, wine and agribusiness
Hi-Tech
Health and medical industries
Energy and mining
Space industry
Creative industries
SISA 408 Visa - Supporting Innovation in South Australia
The Supporting Innovation in South Australia stream of the 408 visa is a program specifically designed to encourage innovative businesses operating in South Australia.
It is a temporary visa program for those looking to run businesses in South Australia, with a key focus on the following fields:
Defense and Space
Cybersecurity, big data, digital and blockchain
Food, wine, and ag. Tech
Health and medical technology
Robotics
Media and film
A key benefit of the program is the involvement of innovation hubs and the Chief Entrepreneur.
Lot Fourteen
Lot Fourteen is a business and innovation hub located on North Terrace in the middle of Adelaide CBD, South Australia.
As an innovation hub, Lot Fourteen is home to a range of businesses operating in the growth areas highlighted above.
A key feature of Lot Fourteen is the Australian Space Agency which opened at Lot Fourteen in February 2020.
Do you need help?
Our team of experienced Immigration Lawyers and Migration Agents look forward to assisting you with your Australian visa or appeal.
Based in Adelaide South Australia, we provide Australian Immigration advice to people and businesses from all over the world.
If you require further information regarding your Australia visa options you can contact us through:
(08) 8351 9956 or +61 8 8351 9956 or This email address is being protected from spambots. You need JavaScript enabled to view it.