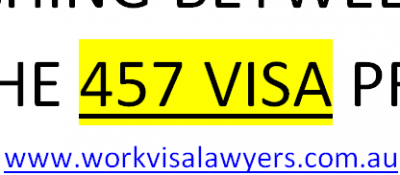 From the Independent Review of the integrity of the subclass 457 visa programme completed in March this year, it has been discovered that there are employees and employers who are engaged in a "Payment for Visas" arrangement. Typically what happens is that employers are offered a payment in return for agreeing to sponsor an overseas worker to obtain a 457 work visa to enter Australia.
The Migration Amendment (Charging for a Migration Outcome) Bill 2015 will introduce fines or imprisonment for such offenders. It will become a criminal offence for a sponsor or a third party to ask for or receive a benefit from a visa sponsorship. The punishment is set to be a maximum of 2 years imprisonment or a fine equivalent to $64,000 for an individual or $324,000 for a corporate body.
In addition to criminal charges, civil penalties will also be applicable to the sponsor, visa applicant or any third party who received or provided payments or benefits in relation to a sponsorship for a 457 visa. Fines are set at $43,200 for individuals and $216,000 for corporate bodies.
The negative consequence for the visa applicant is that their 457 visas can be cancelled based on discretionary powers introduced by the amendment to consider cancellation of visas. Therefore as long as you are involved in a "Payment for Visas" scheme your visa may be cancelled and you will be asked to leave Australia.
On a separate note the government has introduced more measures to educate temporary visa workers about fair working conditions and protection from abuse in Australia. Assistant Minister for Immigration and Protection, Senator the Hon Michaelia Cash issued a statement announcing the measures and also the need for overseas temporary workers to identify unfair employment conditions such as low wages, discrimination, bullying and harassment.
The Pay and Conditions Tool (PACT) is available at calculate.fairwork.gov.au and all workers can check their pay using the tool.
Comments by Chris Johnston – Principal Lawyer and Registered Migration Agent at Work Visa Lawyers
The 457 and other work visa programmes such as the Regional Sponsored Migration Scheme (RSMS) subclass 187 visa and the Employer Nomination Scheme (ENS) subclass 186 visa have had problems such as:
sponsorship by the employers were not genuine
employers and/or employees did not fulfil the obligations as stipulated in the sponsorship
Such cases used to have the Department of Immigration and Border Protection monitor and sanction the sponsoring business if they are found guilty of not fulfilling the sponsorship obligations, including offences such as deducting pay from employees for the sponsorship. With the new and tougher punishments, employers will now need to ensure that they are not abusing the system to make unlawful gains for sponsoring an overseas worker to come to Australia.
Sponsored employees should also not partake in such "Payment for Visas" arrangement as they can now be fined and have their visas cancelled by the Department. If you are caught in such a situation you need to check with a Registered Migration agent about the visa conditions and obligations you need to fulfil.
This information is accurate on 18 September 2015
Sources:
Do you need help with an Australian visa application?
At Work Visa Lawyers we are experienced in assisting applicants in all matters relating to Australian visa applications. Our areas of expertise include Skilled Migration visas, Business Skills Migration visas, Employer Sponsored Work Visas, Partner and other Family Migration visas as well as Migration Review Tribunal, Judicial Review and Ministerial Intervention.
If you require further information regarding your Australia visa options you can contact us through:
(08) 7225 5091 or +61 8 7225 5091
or This email address is being protected from spambots. You need JavaScript enabled to view it.