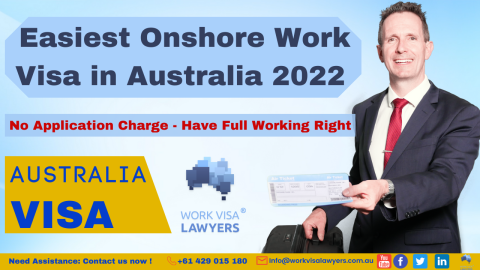 Have you heard of a visa with no application charge but full work rights available now?
A waiter, a cleaner, or even a security officer can get this visa if you have no other visa options.
Let's find out what that is!
Full information about 408 Visa here >>
What is Pandemic Event Visa 408?
It is the visa 408- Pandemic Event Covid-19 visa.
The pandemic Visa 408 was created to help individuals who could not depart from Australia during the pandemic.
However, on the 3rd of March 2022, Changes were made to the visa.
It is officially open to all temporary visa holders with work rights.
How to qualify for Visa 408?
Applicants must hold a relevant temporary visa with work rights.
The visa you hold must be 90 days or less from the ceasing date.
Applicants must be in Australia and have arrived before 21 February 2022.
You will need evidence of employment from your employer. Evidence of employer includes: job offer, employment contract, payslips...
This visa is basically for everyone who is holding a visa with work right in Australia. Visitor Visa may not be eligible to apply for this.
Why is 408 visa so easy to apply?
There is no application charge for the 408 Visa Australia.
If you are working in Australia, you can apply for this visa to extend your stay in Australia.
There are severe labor shortages in Australia.
Businesses in all sectors are crying out for skilled workers. Before this announcement, covid visa 408 was only open for worker in critical sectors.
Minister Hawke said:" With unemployment at record lows, the Government is providing targeted incentives for skilled workers to remain in Australia."
Removing sector limitations help retain temporary migrants in Australia.
408 Visa to PR Australia
There is no doubt that this easy requirement can benefit some skilled migrants.
They can have more time to gain work experience and collect points for their PR.
Applicants who can take advantage of this visa 408 include:
Student visa with no other visa options
485 Visa with no extension option
Third Working Holiday Visa expiring soon
With a work exeperience requirement for Skilled Migration Program in most states and territories and Employer sponsored visa TSS 482, 408 Covid Visa is surely the best migrant saver for skilled workers in Australia who is seeking Australian PR.
International students and workers can use this time to gain skills or prepare for paperworks to apply for Permanent Residency.
408 covid visa duration - how long can I get?
If you work in the critical sector, you will get 12 months duration.
Otherwise, a 6-month visa 408 can give you enough time to plan for your future.