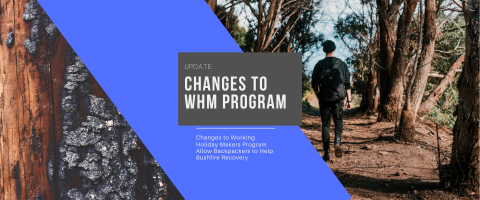 The Australian 2019/20 bushfire season has been one of the worst natural disasters our country has faced.
We have previously discussed the impact of the bushfires on various visa subclasses in our recent article: https://www.workvisalawyers.com.au/news/all/how-will-the-bushfire-crisis-impact-on-australian-visas-and-immigration-1.html
Among the affected visa holders, Working Holiday (subclass 417) and Work and Holiday (subclass 462), have felt the biggest impact. Working holidaymakers may have experienced disruptions to their work and thus, are unable to meet the specified work required to extend their visas. Others may have been turned away from fire and drought affected areas as there is simply no work available.
Following recommendations from the National Bushfire Recovery Agency, changes to working holiday visas were announced today. These changes are mutually beneficial for fire affected regions and working holiday visa applicants and holders.
What are the changes for working holiday visas for Australia?
Working Holiday (subclass 417) and Work and Holiday (subclass 462) visa applicants and visa holders can now count volunteer work in bushfire recovery in eligible regional areas as part of their visa application.
In addition, specified work for Work and Holiday (subclass 462) visa holders has been revised. Previously, only specified work in the following industries was included for Work and Holiday visa holders (subclass 462):
plant and animal cultivation in northern Australia and other specified areas of regional Australia
fishing and pearling in northern Australia only
tree farming and felling in northern Australia only
tourism and hospitality in northern Australia only
Recent changes to visa policy include construction as specified work for Work and Holiday (subclass 462) visa holders. Examples of specified work in construction include:
demolition of buildings, trench digging, land clearing and earth moving
residential and non-residential construction or renovation/repair, including of roads, footpaths, bridges, parking lots, fencing, railways, dams, irrigation systems, sewage and storm water drainage systems.
In addition, backpackers working in bushfire zones can remain with the same employer for up to one year, instead of the previous maximum of six months.
How will bushfire changes affect those who already hold working holiday visas?
To be eligible for a second year working holiday visa, backpackers are required to work for three months in a designated area of Australia. Second-year visa holders who are looking to extend for a third year are required to work for six months in a designated area of Australia.
In the wake of the damage caused by the recent bushfires in regional Australia, those who already hold working holiday visas may have experienced difficulty in obtaining employment to count towards the work requirements for a second or third year visa extension.
Changes to the working holiday visa will allow visa holders to obtain work or volunteer in fire-affected communities whilst still accumulating the required working days for their visa extension.
When will the changes for working holiday visas apply?
Changes were announced by Acting Minister for Immigration, Citizenship, Migrant Services and Multicultural Affairs Alan Tudge on 17 February 2020.
How will the changes benefit Australian communities affected by Bushfires?
Communities affected by bushfires will benefit from eager backpackers who want to contribute to recovery efforts as well as accumulate their specified work requirements. There may be a shortage of Australians in rural towns who are able to complete labour-intensive tasks such as demolition, land clearing, and dams, roads and railway repairs. Working holiday visa holders are aged between 18 and 30 years old and have the energy to assist.
The Department of Home Affairs' most recent statistics show that in the 2018-2019 financial year, a total of 209,036 Working Holiday maker visas for both subclasses were granted. The contributed efforts of even half of these visa holders will result in rebuilding affected communities much quicker.
Backpackers staying in bushfire affected regions will also contribute to local tourism. Every dollar spent by backpackers living and working in rural towns will help to maintain local jobs and local businesses.
We provide updates to policy changes as they come. Follow us on Facebook and Twitter to receive the latest updates.
Pro Bono Immigration Assistance
In response to the devastating bushfires that have ravaged South Australia, the MIA South Australian branch wishes to extend a hand of support for anyone who has been affected by the bushfires and needs immigration advice. MIA members have generously offered to provide pro bono immigration assistance to a range of visa holders and businesses that have been affected by the bushfires.
To apply, please email This email address is being protected from spambots. You need JavaScript enabled to view it. with your name, contact details and a brief explanation of your matter.
Please visit the MIA website for more information: https://www.mia.org.au/public-resources/related-events/sa-pro-bono-assistance
How to Get Involved
Blaze Aid is a volunteer-run charity that helps to rebuild fences and other structures in rural communities affected by natural disasters. Volunteers are provided with a place to stay, bathroom facilities, personal protective gear and all meals.
Blaze Aid has set up camps in various regional areas affected by the bushfires. To volunteer, please contact the Camp Coordinators on their website:
https://blazeaid.com.au/volunteering-information/
Do you need help with an Australian visa application?
At Work Visa Lawyers we are experienced in assisting applicants in all matters relating to Australian visa applications. Our areas of expertise include Partner Visas, Skilled Migration visas, Business Skills Migration visas, Employer Sponsored Work Visas and other Family Migration visas as well as the Administrative Appeals Tribunal (AAT) Review, Judicial Review and Ministerial Intervention.

If you require further information regarding your Australia visa options you can contact us through:

(08) 8351 9956 or +61 8 8351 9956 or This email address is being protected from spambots. You need JavaScript enabled to view it.
Sources
https://minister.homeaffairs.gov.au/davidcoleman/Pages/backpackers-help-bushfire-recovery-20200217.aspx
https://immi.homeaffairs.gov.au/visas/getting-a-visa/visa-listing/work-holiday-462/specified-462-work
https://www.homeaffairs.gov.au/research-and-stats/files/working-holiday-report-jun-19.pdf
https://www.mia.org.au/public-resources/related-events/sa-pro-bono-assistance