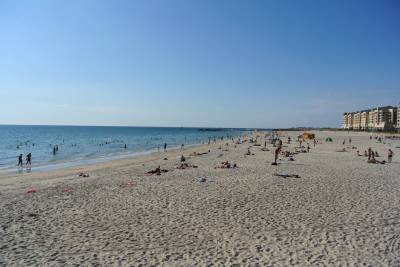 As the year rolls to a close and the majority of our readers look forward to spending some time at the beach (as above) or some other well-deserved rest and relaxation activity, it is also time to look back at the year and recap what has been developing in the Australia migration regulations.
The Headlines You Need To Know
The 457 Temporary Work Visa is undergoing continuous change due to two factors:
1) The 457 Visa Programme Integrity Review Report
Released by the Department of Immigration and Border Protection (DIBP) on 10 September 2014, the review report made 22 recommendations to the 457 visa programme. Some of the recommendations have already been implemented while some will be rolled-out in the first half of 2016.
2) Temporary Work Visa Exploitation in Recent Media
Most of us would have heard about the exploitation of working visa holders by 7-Eleven franchises across Australia. This has alarmed the Department in stepping up on checking the integrity of business sponsorships and monitoring both the business sponsor and visa holder in relation to the obligations of the 457 Temporary Work Visa.
So what are the changes in place?
The following is a list of changes that have happened or are expected to happen in time:
English Requirements
The English requirements have been lowered as part of the Review Report recommendations. Here are the new requirements:
---
English test

Minimum band score

Minimum scores for test components

Listening

Reading

Speaking

Writing

IELTS test

Overall band score 5.0

4.5

4.5

4.5

4.5

OET

-

B

B

B

B

TOEFL iBT

Total band score 36

3

3

12

12

PTE

Overall band score 36

30

30

30

30

CAE

Overall band score 154

147

147

147

147
---
Additionally the exemption to the English requirement has now changed to requiring an applicant to have at least 5 years of cumulative full-time study in a secondary and/or higher education institution where the instruction was delivered in English. Previously the studies needed to be completed consecutively for 5 years.
Training Benchmarks
Training Benchmarks are a key criteria for business sponsors to meet and uphold as part of the 457 sponsorship requirements. It is recommended that the current benchmarks will be replaced by annual training fund contributions to the Department of Industry. This is likely to be implemented in 2016.
Validity of Standard Business Sponsorships (SBS)
Companies must apply to be an approved Business Sponsor before they can sponsor overseas workers for a 457 Temporary Work Visa. The validity of Standard Business Sponsorships (SBS) has been lengthened from 3 to 5 years for existing businesses; and from 12 to 18 months for new businesses which have operated for less than 12 months. The SBS will be valid for 6 years if you are an Accredited Sponsor.
Penalties for Business Sponsors who Receive Payment in Return for Sponsorships
On 4 December 2015, the Australian Federal Parliament has passed the bill for the Migration Amendment (Charging for a Migration Outcome) Act 2015. This is specifically targeting businesses which have sponsored overseas workers in a non-genuine capacity and received payments in return for the sponsorship. Such actions will now incur a civil and criminal penalty. A third party such as employment placement agencies, migration agents and so forth can also be charged under the offence. The severe penalties include:
Criminal penalties punishable by a maximum of 2 years imprisonment or a fine equivalent to $64,000 for an individual person or $324,000 for a body corporate
Civil penalties applicable to the sponsor, visa applicant or other third party who received or provides or offers a benefit related to a sponsorship related offence will equate to $43,200 for an individual person or $216,000 for a body corporate
The Bill also allows the Department to consider visa cancellations where the visa holder has engaged in a 'Payment for Visas' conduct.
Additional Information Required During the 457 Visa Nomination Process
As of 20 November 2015, the Department is now requiring businesses to provide the names of the owners, directors and major shareholders of the business as part of the application process.
This latest requirement was introduced probably to identify applications where "self-sponsorship" for the 457 visa is being done. Self-sponsorship is when businesses sponsor one or more of the owners for a 457 visa.
What else can we expect to happen for the 457 Visa Programme?
As mentioned there were a total of 22 recommendations made in the final report of the integrity review. We expect more changes to be introduced in the first half of 2016 and perhaps at the beginning of the new fiscal year in July 2016.
The Department seems to be heading into the direction of increased and more detailed checks of the 457 sponsorship, nomination and visa application process. It is expected that there will be more monitoring of 457 business sponsors and visa holders to ensure compliance and fulfilment of the obligations of the visa.
Meet us during the weekend!
Work Visa Lawyers is pleased to announce that we will be taking appointments on the weekend of 19 and 20 December 2015. December is the busy month when many visa applications are lodged and visa issues resolved. As such, Principal Migration Agent and Lawyer, Chris Johnston has made himself available for consultation during the weekends. We understand visa matters may be urgent at this time of the year and would like to assist as many applicants as possible.
Appointment places are LIMITED so contact us as soon as possible to schedule your appointment.
Email: This email address is being protected from spambots. You need JavaScript enabled to view it.
Call: +61 8 8351 9956
Season's Greetings from All of Us at Work Visa Lawyers!
All of us at Work Visa Lawyers would like to take this opportunity to wish everyone a
Wonderful, Merry Christmas and Happy New Year!
Best wishes and have a great year ahead!
Do you need help or more details about your situation?
At Work Visa Lawyers we are experienced in assisting applicants in all matters relating to Australian visa applications. Our areas of expertise include Skilled Migration visas, Business Skills Migration visas, Employer Sponsored Work Visas, Partner and other Family Migration visas as well as Migration Review Tribunal, Judicial Review and Ministerial Intervention.
If you require further information regarding your Australia visa options you can contact us through:
(08) 7225 5091 or +61 8 7225 5091
or This email address is being protected from spambots. You need JavaScript enabled to view it.