Overview of Australian Skilled Migration and the Employer Sponsored 482 Visa Australia
Australia's migration program is divided into four streams:
Family
Special eligibility
Child
Skilled migration program – for migrants with skills to boost productivity and fill gaps in Australia's labour market
In 2020-21, a total of 160,052 visas were granted and the Skill stream comprised 50.7% of those grants. There are different visa types in the Skill stream such as Skilled regional Visa 491 or Skilled Nominated by State Visa 190, but Employer Sponsored Visa program makes up the largest majority (nearly a third) with 23,503 employer sponsored visas granted.
There are a few major streams for Employer Sponsorship program in Australia: 494 Regional Skilled Employer sponsored, Global Talent Visa which might ask a nominator is a company or an Australian organization, or DAMA, just to name a few
However, within the scope of this article, we will be talking about the Temporary Skill Shortage (TSS) 482 visa program
The Temporary Skill Shortage (TSS) 482 Visa program was designed to address identified skills shortages, allowing businesses to enhance their workforce by sponsoring workers from overseas to live and work in Australia on a temporary 482 visa.
The 482 Visa Australia is getting more popular and being focused by Australian Government in this financial year ending June 2023 to solve the skills crisis in Australia post-pandemic Covid-19.
According to the migration planning levels announced in April, there are 30,000 places added to Skilled Migration program which has 8,000 more allocations for Employer Sponsored Visas in 2022-2023 Financial year.
The government has also announced the new stream for TSS 482 Short Term Visa holders to be eligible to apply for Australian Permanent Residency 186 Visa.
Even though there are just over 200 occupations each on the Short-Term Skilled Occupation List (STSOL) and Medium and Long-Term Strategic Skills List (MLTSSL) for the TSS 482 Visa program, certain occupations are clearly in greater demand than others.
Get access to 482 Visa Occupation lists here >>
Which Occupations are in high demand for Employer Sponsored Visa Australia?
According to data collected in 2021, the most popular occupations in the Employer Sponsored Category can be grouped into 4 key sectors:
Health (Registered Nurse or General Practitioner)
Finance and Accounting (Accountants )
IT (Software Engineer) or ICT Business and Systems Analysts
Trades (Chef and Automotive like Motor Mechanic)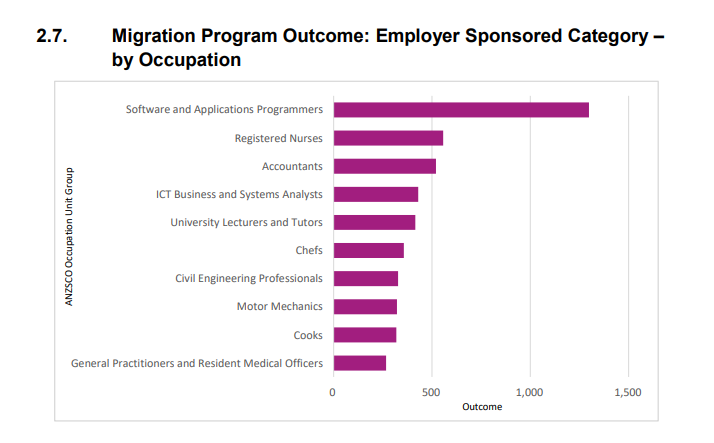 Most of these occupations are classified in the ANZSCO classification guide as Skill Level 1 (the highest level).
Only 2 of the top 10 occupations are Skill Level 2 (Chefs) or Skill Level 3 (Cooks and Motor Mechanics).
Nominations in the Employer Sponsored space appear to be skewed in favour of a level of skills commensurate with a Bachelor degree or higher qualification (or otherwise 5 years+ of relevant experience).
The majority of these occupations most in demand (except for Cooks) all come under the Medium and Long-term Strategic Skills List (MLTSSL) meaning visa holders can be sponsored for up to 4 years with a pathway to permanent residency from the 482 Visa.
It is necessary to make sure your occupation for 482 Visa is listed in MLTSSL so that you may be eligible for Australian PR
Australia's growing needs in the Information Technology field is reflected in the published statistics. By far the most common occupation group in the Employer Sponsored category is Software and Applications Programmers.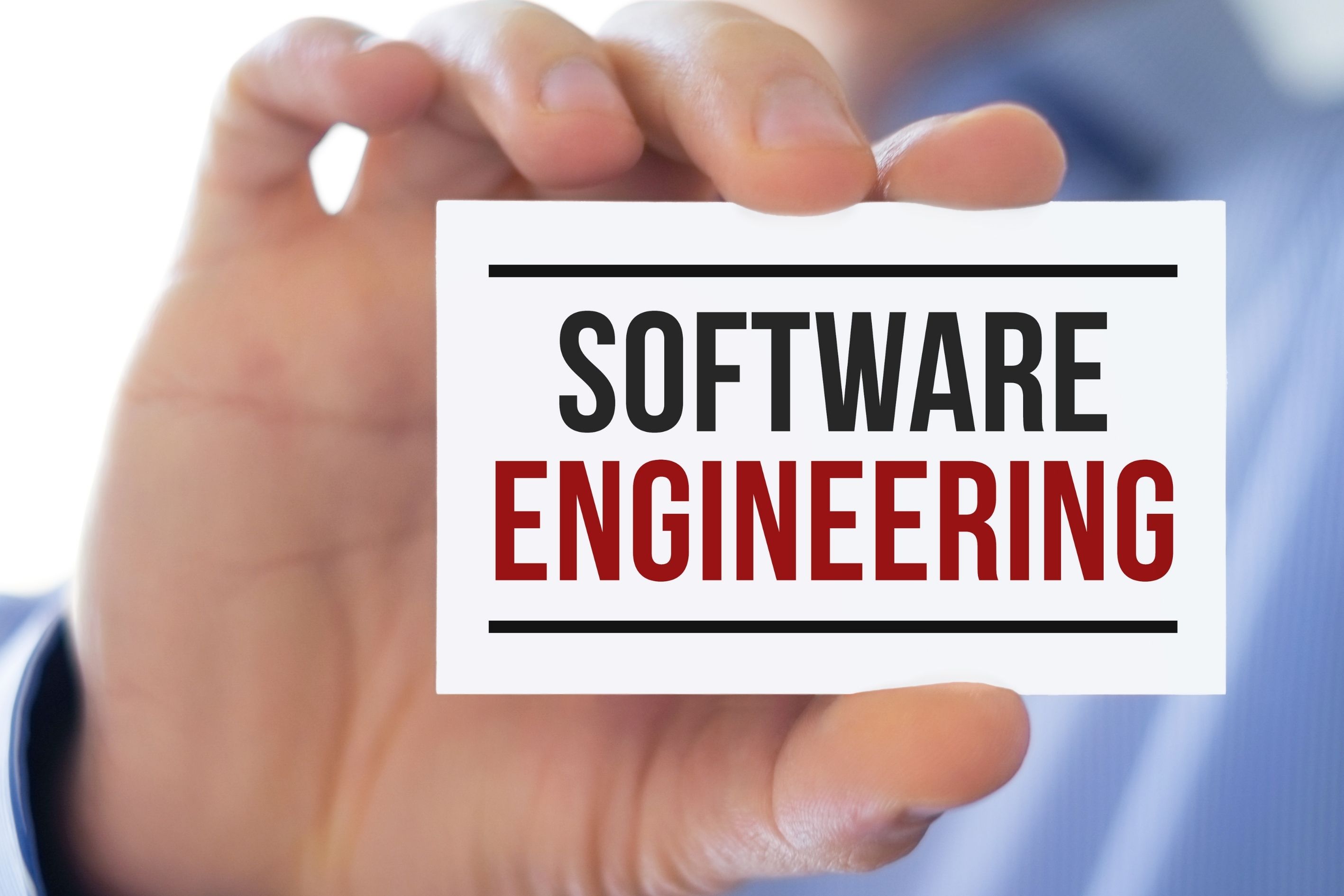 This is followed by Registered Nurses and Accountants, with ICT Business and Systems Analysts and University Lecturers coming close behind.
Employers across Australia have been calling out about their desperate struggles with skills shortages in critical, high-demand sectors. The demand for skilled workers in these key industries is clearly strong, especially in the wake of the COVID-19 pandemic. Half of these occupations can also be found on the Priority Migration Skilled Occupation List (PMSOL), including:
Accountant (General) (221111)
Management Accountant (221112)
Taxation Accountant (221113)
Civil Engineer (233211)
Geotechnical Engineer (233212)
Structural Engineer (233214)
Transport Engineer (233215)
General Practitioner (253111)
Resident Medical Officer (253112)
Medical Practitioners nec (253999)
Registered Nurse (Aged Care) (254412)
Registered Nurse (Critical Care and Emergency) (254415)
Registered Nurse (Medical) (254418)
Registered Nurse (Mental Health) (254422)
Registered Nurse (Perioperative) (254423)
Registered Nurses nec (254499)
Analyst Programmer (261311)
Developer Programmer (261312)
Software Engineer (261313)
Software and Applications Programmers nec (261399)
ICT Security Specialist (262112)
Chef (351311)
One of the added advantages is the Department of Home Affairs gives priority processing to employer sponsored nomination and visa applications for an occupation on the PMSOL.
These occupations were calculated in the migration report of financial ending 2021 and these are not all the occupations that you can get permanent residency from a TSS 482 Visa.
Moreover, Covid-19 has made a lot of impacts on how the employer sponsored streams go.
Please be minded that the more popular an occupation is for any migration program, the higher competitiveness you may face against until you meet the eligibility criteria.
Australia: the land of opportunity
A recent look at one of Australia's popular job recruitment websites revealed more than 10,000 Civil Engineer positions advertised for Civil Engineers, 5000 for Software Engineers, more than 6000 for General Practitioners and an astounding 20,000 advertisements posted for Registered Nurses.
If you have sought-after skills, qualifications and employment background in the IT and health industries, there's a good chance an Australian employer wants to hire you!
However, choosing the right occupation and work in a great location could be difficult to decide. There are actually many factors to come up with a decision of where to stay and work and what to do.
That is why Work Visa Lawyers are here to help.
If you are skilled workers, Please book an appointment to talk to one of our professional Immigration Lawyers or Registered Migration Agents about the Employer Sponsorship program in Australia.