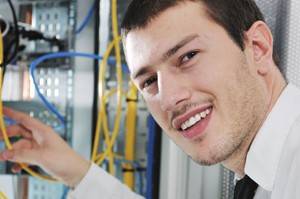 Information and Communications Technology (ICT) professionals have been a main group of applicants for the Skill Stream of the Australian Migration programme for a long time. In the year 2014-2015, 2 out of the top 5 occupations of primary applicants in the Skill Stream were ICT positions. ICT professionals are identified by 3 main groups in Australia, namely:
ICT Business and Systems Analysts (ANZSCO: 2611)

Software and Applications Programmers (ANZSCO: 2613)

ICT Support and Test Engineers (ANZSCO: 2632)
According to the Job Outlook website by the Australian Government Department of Employment, here is a table summarising job prospects and median weekly salaries for ICT professionals in Australia:
ICT Group

Employment Growth

(to 2019)

Job Openings

(to 2019)

Full Time Weekly Earnings (AUD) in August 2013*

ICT Business and Systems Analysts

VERY STRONG

AVERAGE

$1,678

Software and Applications Programmers

STRONG

ABOVE AVERAGE

$1,610

ICT Support and Test Engineers

STRONG

LOW

$1,472
*Weekly earnings for all occupations were $1,152
The employment indicators for ICT professionals look favourable for the future and it is expected that many ICT professionals from overseas will be moving to Australia temporarily or permanently. ICT professionals from overseas can move and work in Australia by applying for:
Employer Sponsored visas such as:

Temporary Work (Skilled) – the "457" visa

Regional Sponsored Migration Scheme (RSMS) - subclass 187 visa

Employer Nomination Scheme (ENS) - subclass 186 visa

General Skilled Migration (GSM) visas such as:

Skilled Independent - subclass 189 visa

Skilled Nominated - subclass 190 visa

Skilled Nominated or Sponsored (Provisional) - subclass 489 visa
The visa options are also available to international students who have completed their studies in Australia. The Temporary Graduate visa is an additional visa that is available to international students who meet the Australian study requirement.
Most visa applications for ICT professionals will need a positive skills assessment from the Australian Computer Society (ACS). The ACS Skills Assessment has many different pathways and you will need to check that you meet the requirements of the correct pathway that is applicable to your circumstances (qualifications, work experience, etc.). Here are some of the considerations you should take note of when applying for a Skills Assessment from ACS:
Is your IT qualification highly relevant to your role at work/nominated occupation?

Is your IT qualification equivalent to an Australian diploma? Or Bachelor's degree?

Did you work in different roles during your IT career? You cannot combine work experience from different IT occupations for the Skills Assessment.

ICT Support Technicians are assessed by Trades Recognition Australia (TRA) and not the ACS

Professional IT qualifications or vendor certifications, such as Microsoft Certified Solutions Expert (MCSE), Microsoft Certified Solutions Developer (MCSD), Cisco Professional, Cisco Expert and Cisco Architect are accepted as IT qualifications for ACS Skills Assessment purposes.
As other traditional major occupations such as Accountants face saturation in the Australia visa application pool, studying in an IT education course may lead to a better pathway for further visa applications. Currently Accountants need to score 70 points in the Expression of Interest (EOI) to receive an Invitation to Apply (ITA). ICT professionals in ANZSCO group 2611 and 2613 only need 65 points to receive an ITA.
Comments by Chris Johnston – Principal Lawyer and Registered Migration Agent at Work Visa Lawyers
The strong employment outlook and attractive conditions will help ICT professionals make a decision on moving to Australia. Prospective students should also consider studying in the field of ICT as the profession looks more favourable for visa applications that allow further stay in Australia.
Work Visa Lawyers is very familiar with the ACS Skills Assessment requirements and can also provide guidance on the Recognition of Prior Learning (RPL) pathway for suitable applicants. We will help identify the right application pathway and manage the application for you. Contact us to book an appointment and we can explain the ACS skills assessment process and your Australia visa application procedures to you.
This information is accurate on 14 November 2015
Source:
Do you need help with an Australian visa application?
At Work Visa Lawyers we are experienced in assisting applicants in all matters relating to Australian visa applications, including state sponsorship applications. Our areas of expertise include Skilled Migration visas, Business Skills Migration visas, Employer Sponsored Work Visas, Partner and other Family Migration visas as well as Migration Review Tribunal, Judicial Review and Ministerial Intervention.
If you require further information regarding your Australia visa options you can contact us through:
(08) 7225 5091 or +61 8 7225 5091
or This email address is being protected from spambots. You need JavaScript enabled to view it.