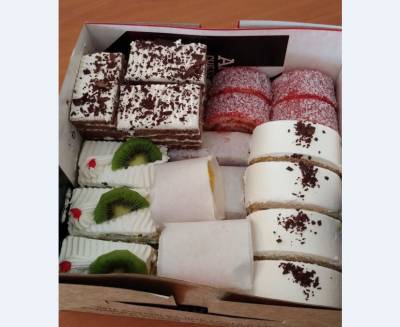 CAKES and SWEETS!! A whole box of them!!
Work Visa Lawyers had the pleasure of receiving a gift of appreciation from our client Mr. Rahimi, who recently received the grant of his State/Territory Sponsored Business Owner (subclass 892) permanent residence visa. The boxful of traditional sweets and cakes was a treat and all of us at Work Visa Lawyers thank him for his gracious gesture.
When Mr. Rahimi first came to meet with Principal Migration Agent and Lawyer Chris Johnston, he had no idea about the requirements for him to apply for the subclass 892 permanent residence visa. In his mind he thought that he would be automatically eligible for permanent residency since he has been operating a business in Australia.
Thankfully time was on his side because he sought professional and accurate migration advice from Chris early on. As such he was able to strengthen his application by putting more effort into the business and thus allowed him to apply for the subclass 892 permanent residence visa before his initial State/Territory Sponsored Business Owner (Provisional) visa (subclass 163) expired.
With his kind permission we are able to share this wonderful news with everyone. Ultimately for all of us at Work Visa Lawyers the best reward we can get is to see a joyous and grateful client successfully obtain his Australian visa for further stay in Australia. The cakes...??? They are just a sweet bonus.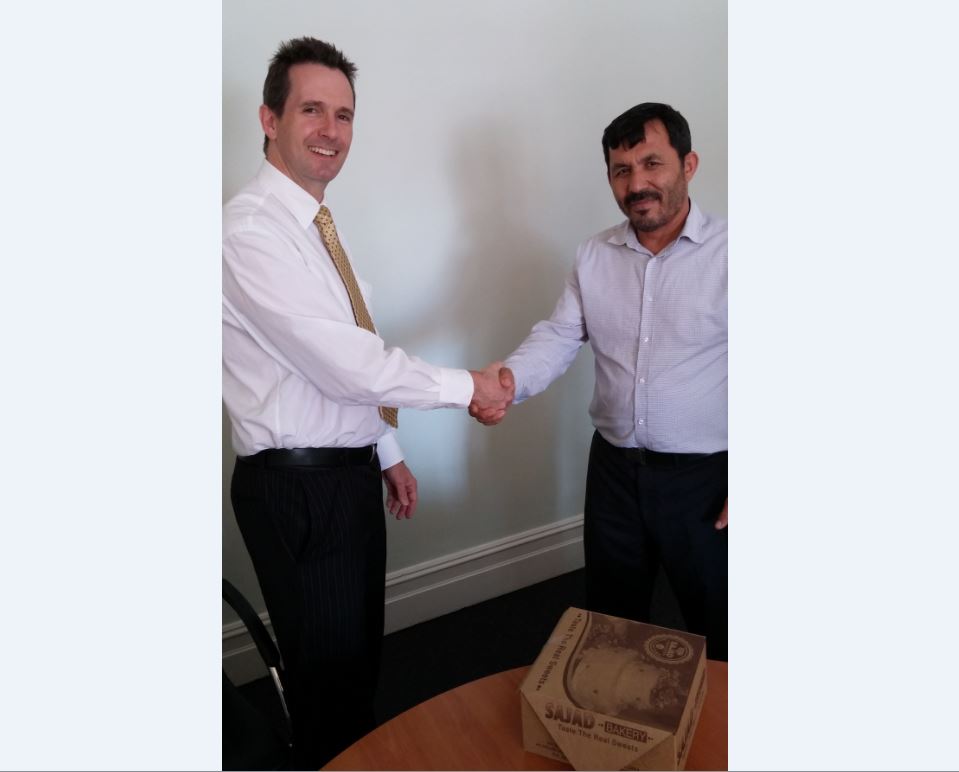 Chris with Mr. Rahimi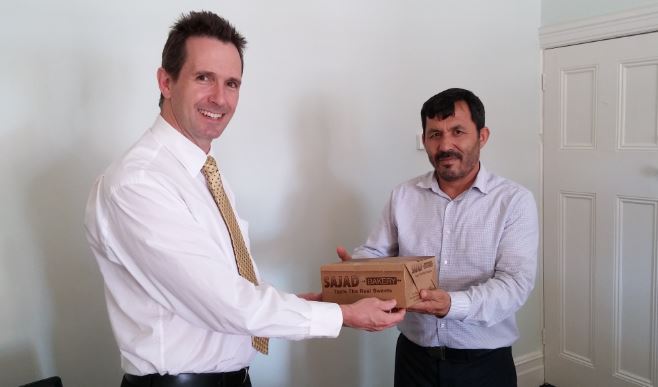 Comments by Chris Johnston – Principal Lawyer and Registered Migration Agent at Work Visa Lawyers
It was very satisfying to be able to assist a client who has successfully established his business in Australia and successfully obtain his permanent residency in Australia. It is worth noting that the success of the application was also because of Mr. Rahimi's initiative to seek professional migration advice early to ensure he will be able to fulfil the permanent visa application requirements.
In my many years in the Australia migration industry, I have seen many temporary residence business migrants forget about the requirements for the second stage permanent visa application. Most panic when the end of their temporary residence visa is ending and by then it might be too late. I would like to advise all temporary business migrants to seek advice or monitoring from Registered Migration Agents to ensure that the business/investment requirements in Australia are being met for the purpose of the permanent residence visa application at a later stage. It would be gut-wrenching to find out four years later that you are unable to qualify for the permanent residence visa application.
Do you need help with an Australian visa application?
At Work Visa Lawyers we are experienced in assisting applicants in all matters relating to Australian visa applications. Our areas of expertise include Business Skills Migration visas, Employer Sponsored Work Visas, Skilled Migration visas, Partner and other Family Migration visas as well as Migration Review Tribunal, Judicial Review and Ministerial Intervention.
If you require further information regarding your Australia visa options you can contact us through:
(08) 8351 9956 or +61 8 8351 9956
or This email address is being protected from spambots. You need JavaScript enabled to view it.