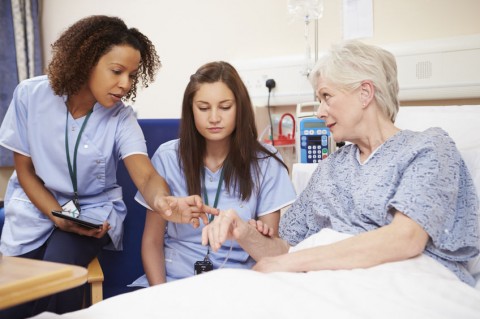 It is estimated that Australia will face a shortage of nurses in the medium to long term because of the following factors:
Retirement of older nurses
Increased demand for nurses, especially in aged care (Australia has a growing aged population)
In the immediate and short term Australian states and territories have started to look towards overseas nurses to fill in the demand for skilled professional nurses. Just last month Neroli Ellis from the Australian Nursing and Midwifery Federation told ABC Radio Hobart nursing recruitment agencies were increasingly looking overseas for nurses to work in Tasmania. Hospitals are also competing to attract experienced nurses to work in their establishments.
Nursing occupations which are suitable for migration purposes have been listed on the Skilled Occupation List (SOL) and Consolidated Skilled Occupation List (CSOL). They include:
[ANZSCO code in brackets]
Midwife [254111]
Nurse Practitioner [254411]
Registered Nurse (Aged Care) [254412]
Registered Nurse (Child and Family Health) [254413]
Registered Nurse (Community Health) [254414)]
Registered Nurse (Critical Care and Emergency) [254415]
Registered Nurse (Developmental Disability) [254416]​
Registered Nurse (Disability and Rehabilitation) [254417]
Registered Nurse (Medical) [254418]
Registered Nurse (Medical Practice) [254421]
Registered Nurse (Mental Health) [254422]
Registered Nurse (Perioperative) [254423]
Registered Nurse (Surgical) [254424]
Registered Nurse (Paediatric) [254425]
Registered Nurses nec [254499]
Enrolled Nurse [411411]
Mothercraft Nurse [411412]
How does a nurse apply for an Australian visa?
There are a few pathways for overseas trained nurses to work in Australia. The options include:
Skilled migration visas
Employer sponsored visas
You will need to meet requirements such as registration with the Australian Nurses and Midwifery Accreditation Council (ANMAC) and English before you can apply.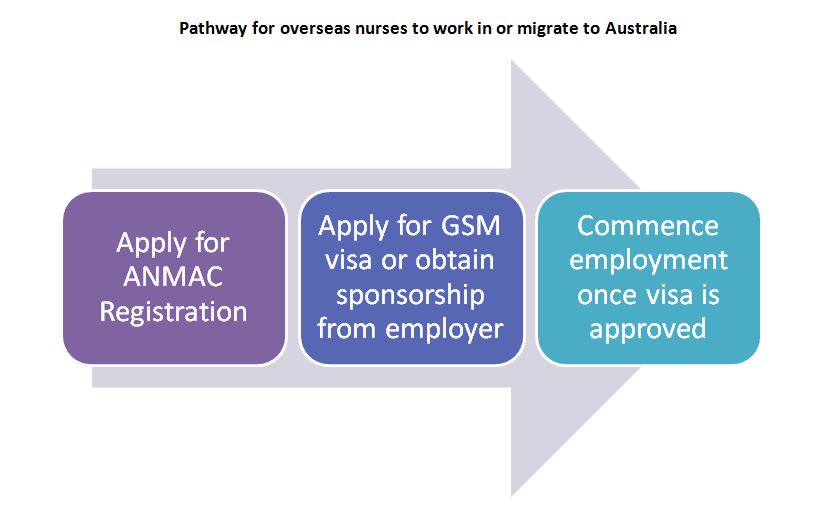 Registration with the Australian Nurses and Midwifery Accreditation Council (ANMAC)
Similar for medical practitioners and lawyers, you will need to complete registration with ANMAC before you can work as a nurse in Australia. The registration process is part of the migration skills assessment for the skilled migration visas listed above as well.
To learn more about the steps for completing the migration skills assessment and registration for nurses, read our article here. In the article we explain why obtaining registration with the Nursing and Midwifery Board of Australia (NMBA) first before the ANMAC migration skills assessment is encouraged.
Effective from 1 July 2016, ANMAC now accepts the PTE Academic and TOEFL iBT English exam results when assessing registration and migration skills assessment applications. Nurses are no longer limited to the IELTS Academic module or the Occupational English Test (OET) for the migration skills assessment. More details here.
If your existing nursing qualifications are insufficient to obtain the required registration, you may have to enrol in a nursing course in Australia before you can obtain registration and apply for an employer sponsored or skilled visa. It is important that you ensure your nursing qualification is CRICOS accredited and recognised by ANMAC.
After the completion of your nursing qualification you should apply for registration with the NMBA. You may then apply for the general skilled visas if you are eligible, or an employer sponsored visa if a hospital or medical facility has agreed to sponsor you as a nurse.
To learn more about the differences between a Registered Nurse and Enrolled Nurse, you can refer to the article here.
Sources:
Comments by Chris Johnston – Principal Lawyer and Registered Migration Agent at Work Visa Lawyers
There continues to be a strong demand for nurses in Australia. The Department of Immigration and Border Protection (DIBP) increased its 2016-17 migration planning numbers for nurses by approximately 2500 places in a bid to allow more overseas nurses to migrate to Australia.
While the demand for nurses is strong there is a barrier for overseas trained nurses to qualify for a visa immediately if they are unable to obtain registration with ANMAC. As such occasionally the partner of a nurse is more suitable to be a primary applicant instead. It is best to seek the advice of a Registered Migration Agent to understand the options available for you and your family to apply for an Australian visa.
This information is accurate on 17 February 2017
Do you need help with an Australian visa application?
At Work Visa Lawyers we are experienced in assisting applicants in all matters relating to Australian visa applications. Our areas of expertise include Skilled Migration visas, Business Skills Migration visas, Employer Sponsored Work Visas, Partner and other Family Migration visas as well as the Administrative Appeals Tribunal (AAT) Review, Judicial Review and Ministerial Intervention.
If you require further information regarding your Australia visa options you can contact us through:
(08) 8351 9956 or +61 8 8351 9956
or This email address is being protected from spambots. You need JavaScript enabled to view it.