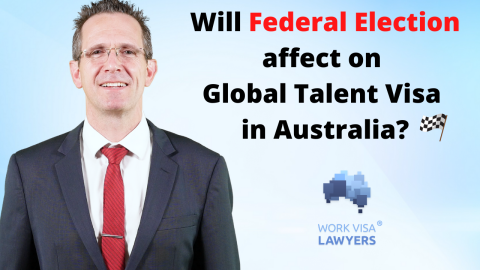 Australian Election nears - How it will affect Global Talent Visa subclass 858?
Australia is approaching a Federal Election and it's possible that Liberal party could lose its hold on power. If the Labours party wins against the liberal. There are bound to be some big changes.
Although Labour is typically seen to be pro-migration and its spoken about increasing the numbers of visas. Traditionally Labour has favoured more family visas.
It is possible that the Global Talent Visa will be scaled back if there is a Labour government.
If you are planning for a Global Talent EOI or nomination, lodging in the first half of 2022 might be the best idea.
This is all speculations, as the election nears, we are sure to hear more from both parties about their future plans.
If you think you might be suitable for the global talent visa, you can do a free assessment on our website.
Before you apply for Global Talent Visa Australia, you may need to know all the criterias and processing time or success rate to decide whether you are eligible for it or not. We have made a lot of articles and blogs on global Talent Visa subclass 858 which may be useful for you.
In General, visa applicants are required to meet the following 4 core requirements to be able to apply for a Global Talent visa:
Skills in a relevant sector
Internationally recognised for outstanding achievement in your own Target Sector
Salary must be above income threshold provided from Department of Home Affair at $158,600 AUD
An Australian Nominator with PRMONIENCE background or achievements.
Once you can satisfy those core requirement, there are a few more minor factors to determine whether you are going to get invitation or not.
Global Talent Visa 858 Overview
The Global Talent Visa Australia has just celebrated its second birthday. It was successfully launched comparing to Entrepreneur program, which has attracted many of talented people around the world in Australia Growth Industries. (Have a look at those 10 target sectors for Global Talent Visa )
This global talent visa 858 is initially called the Global Talent Independent, the visa was released on 4 November 2019. At the time, no one really knew how big its future would be.
There have been many visas before like the Entrepreneur visa which did not result in getting many applications due to the tough criterias.
Over the last 2 years the Global Talent Visa 858, as it was renamed, has helped thousands of highly skilled individuals migrate to Australia permanently.
At the beginning, Australia Government offered only 5,000 places for this program and after just 1 year it was deemed so fruitful, that the number increased to 15,000. It's been going strong ever since. During the first year, so many clients from Work visa lawyers or applicants are even surprised with Global talent visa processing time, just within days after lodgment or even its success rate, another wonderful number. Click on the link for FREE GLOBAL TALENT VISA ASSESSMENT.
How can Work Visa Lawyers help with your Global Talent Visa 858?
Work Visa Lawyers is highly experienced in all parts of the Global Talent visa application process. We are able to assist with all aspects of the application, and can also provide advice in relation to:
- Check your eligibility for a Global Talent Visa
- Use documents to demonstrate your skills and ability to attract salary to be above the income threshold at $158,500
- Suggesting an Australian nominator that suits your Occupation
Work Visa Lawyers will provide an eligibility assessment before advising you to proceed with a visa application.
Our team of experienced Immigration Lawyers and Migration Agents look forward to assisting you with your Australian visa or appeal.
Based in Adelaide South Australia, we provide Australian Immigration advice to people and businesses from all over the world.
If you think you might be suited to a Global Talent Visa, you can take the GTV free assessment on our
website, and remember to follow our channel so you get all the latest updates.

Book an appointment with one of our experienced Immigration Lawyers and Registered Migration Agents here.
Contact us on (08) 8351 9956 or +61 8 8351 9956 or This email address is being protected from spambots. You need JavaScript enabled to view it.
Free online Global Talent assessment
If you think you are eligible to apply for a Global Talent Visa, it only takes 5 minutes to complete our free online Global Talent assessment form and our lawyers and registered migration agents will assess your eligibility and get back to you.