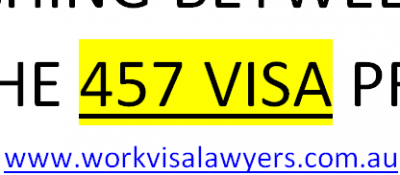 2018 UPDATES:
Skills Assessments & Occupation Lists for Australian TSS 482 And Employer-Sponsored Permanent Resident VisasSkills Assessments & Occupation Lists for Australian TSS 482 And Employer-Sponsored Permanent Resident Visas
Tougher vetting imposed by Home Affairs Minister Peter Dutton has led migration to plummet to its lowest since 2007. As reported by the Department of Home Affairs, actual intake fell from 183,608 in 2016-2017 to a staggering 162,417 for the 2017-2018 financial year. Read More.
How long does a 457, ENS or RSMS visa take to process?
It has been noted that the processing times for the Temporary Work (Skilled) (subclass 457) visa, Employer Nomination Scheme (ENS) (subclass 186) visa, and the Regional Sponsored Migration Scheme (RSMS) (subclass 187) visa have been getting longer in recent times. While the current Department of Immigration and Border Protection (DIBP) service standards list 2 to 3 months processing time for 75% of applications received, the actual processing times for most cases are around 5 months (based on recently submitted applications and comments by business sponsors and visa applicants in forums).
Why is the processing getting slower?
While there is no official explanation for the delay, the slower processing times might be due to increased screening of applications submitted by sponsors and visa applicants. Since the Independent Review report of the integrity in the Subclass 457 Programme released in September 2014, the Department has been stepping up integrity checks and controls for the majority of applications, especially those with the following characteristics:
high risk occupations such as Café and Restaurant Managers, Customer Service Managers, Project or Programme Administrators, Retail Manager, etc.
the applicant is related to the business owner as a family member or relative
an unusually high salary for a low position to claim English Language Exemption
the business has a low profit or is making a loss, and yet seeks to employ more people
The Department is definitely concerned with the findings of the Independent Review about the integrity of employer sponsors and employee visa applicants for the employer-sponsored visas. In addition to the slower and more meticulous screening of applications submitted, the Department has also introduced related policy such as the "Payment for Visas Conduct", which prohibits overseas worker to pay businesses in return for sponsorship, or businesses deducting salaries from the sponsored worker to recover sponsorship costs. You can read more about this in our previous article.
Concerns with Genuine Position for Nominated Occupation in 457, ENS and RSMS visa applications
Applications with the above scenarios are likely to be asked for further information by the Department to ensure that the vacant position is genuine and the applicant meets the requirements for the position with the business. Applications that are asked to provide more documents or information will be assessed more thoroughly by the Department and hence there will be a delay to the processing times with the back and forth of submitting information and douments.
The rise in requests to provide further information are also causing assessment officers to spend more time per application, hence affecting applications that are straightforward genuine and complete when submitted.
What does this mean for the business sponsor and visa applicant?
With the expected delays the business sponsor and visa applicant need to consider the extended processing times to avoid any ill effects to the business operations (urgent need for the sponsored worker) or the visa applicant (leaving current employment too early). Additionally the business sponsor and visa applicant need to cross check before submitting the application to ensure all requirements are met for sponsorship, nomination and visa application. A strong application should be prepared with good supporting documents before submitting to the Department for processing.
Comments by Chris Johnston – Principal Lawyer and Registered Migration Agent at Work Visa Lawyers
While the 457 visa programme has been in the limelight for the wrong reasons and being tightened in recent times, the employer sponsored programme is still an integral part to many businesses in Australia. Australian employers have a genuine need to employ skilled overseas workers to meet business needs to maintain or grow the Australian economy.
With the increased international mobility among skilled workers globally, it is important that the 457 visa programme remains responsive to Australian businesses' needs and enable efficient operations.
The Department's commitment to checking and ensuring that the 457 visa applications received are genuine makes sense to avoid abuse of the programme. However the downside of slower processing times may hurt Australian businesses that already show that they genuinely need an employee who has been identified with the right skills and experience to help meet business operational needs. The Department will need to strike a delicate balance between enforcement and delivering a visa application outcome in time for the Australian businesses.
If you have any questions about the 457 visa sponsorship, nomination and visa application, please contact Work Visa Lawyers to ensure your applications are prepared well before applying.
This information is accurate on 18 May 2016
Source:
Do you need help with an Australian visa application?
At Work Visa Lawyers we are experienced in assisting applicants in all matters relating to Australian visa applications. Our areas of expertise include Skilled Migration visas, Business Skills Migration visas, Employer Sponsored Work Visas, Partner and other Family Migration visas as well as the Administrative Appeals Tribunal (AAT) Review, Judicial Review and Ministerial Intervention.
If you require further information regarding your Australia visa options you can contact us through:
(08) 8351 9956 or +61 8 8351 9956
or This email address is being protected from spambots. You need JavaScript enabled to view it.