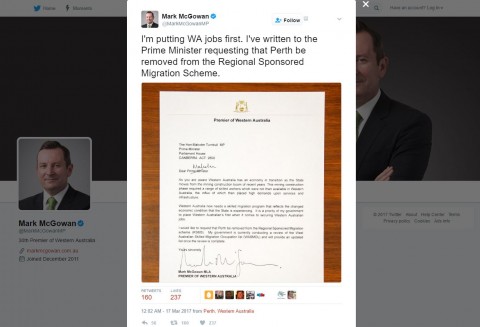 The newly elected Premier of Western Australia (WA) has moved to remove WA from the subclass 187 Regional Sponsored Migration Scheme (RSMS) visa programme. On Friday the 17 of March 2017, Mark McGowan MP submitted a letter to the Australian Prime Minister with the following:
"I would like to request that Perth be removed from the Regional Sponsored Migration Scheme (RSMS)."
An image of the letter was posted on the Premier's Twitter account and you can read the full letter
here
.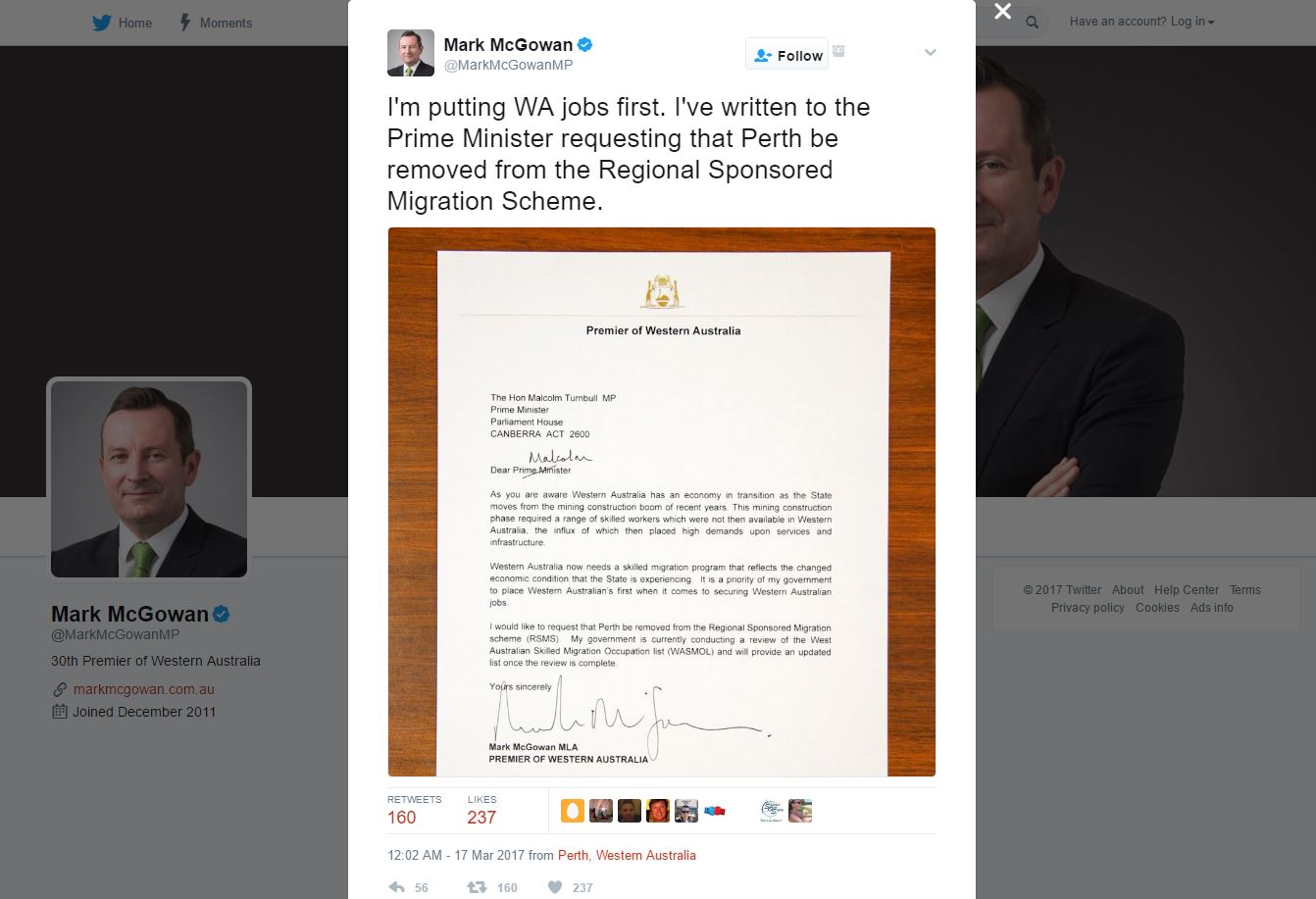 Our earlier write-up on the suspension of the WA state migration programme can be found
here
.


I was planning to apply for the RSMS visa in Perth. What does this mean for me?

The WA Skilled Migration Team is no longer accepting new applications for the following:

· Regional Certification Body (RCB) certification for employers intending to nominate a worker for the subclass 187 RSMS visa

· State nomination or sponsorship for the subclass 190 Skilled Nominated visa and subclass 489 Skilled Regional Sponsored visa

The programme is on hold until the State Government completes a review of the West Australian Skilled Migration Occupation List (WASMOL). There is no estimated timeframe for the completion of the review. Applicants are advised to seek RCB opportunities or state sponsorship from other Australian states and territories.


I have submitted an application to the WA Skilled Migration Department. What happens now?

There has not been any official statement about applications there were submitted to the Skilled Migration team before the suspension of the programme. If you are facing a visa expiry you may wish to seek advice on other pathways to ensure you can submit a valid visa application before your current visa expires.

We will provide an update as soon as we hear from the WA State Government.


Sources:

https://twitter.com/MarkMcGowanMP/status/842632226181275648/photo/1?ref_src=twsrc%5Etfw


Comments by Chris Johnston – Principal Lawyer and Registered Migration Agent at Work Visa Lawyers

The WA State Government looks set to remove the regional status from Perth in a bid to provide employment opportunities to locals first. Potential or current visa applicants should seek advice as soon as possible to plan for any possible negative impacts to intended or ongoing applications.

While the intention sounds good for the local labour market, it is hoped that the local businesses who are in need of skilled or specialised workers do not suffer from the closed-door policy being adopted. Additionally the shift in policy may mean that international students may choose other regional areas such as South Australia or Tasmania for education as it offers the advantage of regional employers and points if they seek a further visa after the course is completed.

This information is accurate on 21 March 2017


Do you need help with an Australian visa application?

At Work Visa Lawyers we are experienced in assisting applicants in all matters relating to Australian visa applications. Our areas of expertise include Skilled Migration visas, Business Skills Migration visas, Employer Sponsored Work Visas, Partner and other Family Migration visas as well as the Administrative Appeals Tribunal (AAT) Review, Judicial Review and Ministerial Intervention.

If you require further information regarding your Australia visa options you can contact us through:

(08) 8351 9956 or +61 8 8351 9956

or This email address is being protected from spambots. You need JavaScript enabled to view it.