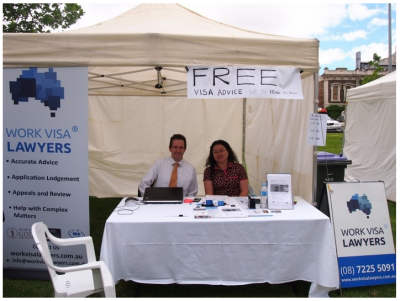 We will be at the South Australian Korean Culture and Food Festival this Saturday 8 November
Work visa Lawyers will have a stall at the South Australian Korean Culture and Food Festival where we will meet and chat with anyone who is at the Festival. Last year we enjoyed the Festival, meeting with people, answering migration questions and eating the delicisious food. So we are back again this year. The photo above is our display from the 2013 festival.
Chris Johnston the founder of Work Visa Lawyer and Christine Lee, an experienced Registered Migration Agent and Korean native speaker, will be attending.
Christine has been writing articles on migration requirements and changes in Raon Korean Magazine.
She has developed strong relationships with the Korean Community and looks forward to catching up with everyone.
Here is Christine's full profile:
www.workvisalawyers.com.au/our-people.html
The Korean Festival is on the same day as the Christmas Pageant and so it is great day for anyone in the city to enjoy the event with some great and to catch up with us.
10th Korean Culture and Food Festival – Event Details

The 10th Korean Cultural and Food Festival will be held at Rundle Park (Corner North and East Terrace) Adelaide on the same day as Credit Union Christmas Pageant.

The event is designed to unite growing Korean community in South Australia as well as sharing our rich culture and food with other South Australian communities.

It will be a celebration of the development of social, cultural and economic trading relations between South Australia and South Korean communities.

It is the family-friendly festival, which provides free fun activities for children, Korean food stalls and cultural performances.
When: Nov 8 2014
Where:Rundle Park Adelaide
Time(s):10am – 4pm
Cost Details: - Free
Venue Details: Rundle Park
Address: Corner North and East Terrace-
See more at: http://www.adelaidecitycouncil.com/whats-on/event/10th-korean-culture-and-food-festival#sthash.dpypZmAT.dpuf
We Hope to catch up with you at the Korean Fair, but if you cannot make it the then you can Contact Our Office?
At Work Visa Lawyers we are experience in assisting applicants with skills assessments, visa applications and appeals.
If you require further information regarding an application or your Australian visa optionsyou can contact us through:
(08) 7225 5091 or +61 8 7225 5091
or This email address is being protected from spambots. You need JavaScript enabled to view it.
Time of Publication:
This information is accurate on the 02 October 2014.
Sources:
www.adelaidecitycouncil.com/whats-on/event/10th-korean-culture-and-food-festival