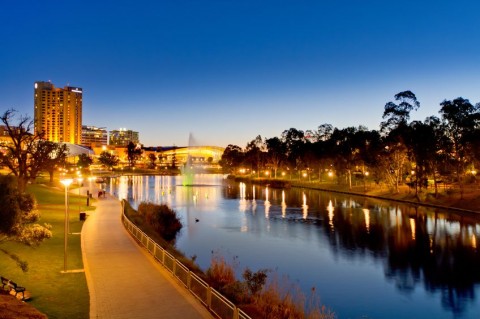 Even though the Business Talent 132 visa is available throughout all of Australia, South Australia sponsors over 50% of all 132 visa applicants every year.
So, why is South Australia so attractive to 132 visa migrants?
Introduction to South Australia
South Australia (SA) also referred to as the 'The Festival State' or 'The Wine State' is located in the southern central part of Australia. Adelaide, the capital city of South Australia, is home to 1.3 million of the 1.7 million people living in South Australia. Adelaide, along with South Australia, is noted for its many festivals, sporting events, food and wine, its long beach fronts, and large defense and manufacturing sectors.
For migrants looking to immigrate to Australia, South Australia has a great deal to offer. Whether you are a visitor, student, or migrant, South Australia has a number of opportunities available. First, South Australia has a high standard of living. Not only has Adelaide been ranked as one of the top 10 most livable cities in the world by the Economist, but since 2011, Adelaide has been ranked as Australia's most livable city three times.
South Australia's unique geographical environment makes it rich in agricultural resources, especially the wine and grape industry. South Australia's climate is particularly suitable for growing grapes, and its wine production exceeds half of all Australian wine production. Some well-known Australian wine brands are also native to South Australia, like Penfolds.

Watch Our Guide to Business Talent Visas
Overview to The Business Talent 132
The Business Talent (subclass 132) Visa encourages successful business owners and investors to settle in Australia while developing a new or existing Australian business. Moreover, the subclass 132 Business Talent visa is the only business/investment visa which grants permanent residency upon approval.
There are currently two streams in the Business Talent 132 Visa; the Significant Business History Stream and the Venture Capital Entrepreneur Stream. Both of these visas will allow you to stay in Australia permanently.

Significant Business History stream
You will need to meet the following criteria:
age younger than 55 years, unless waived by a state/territory
have net business and personal assets of AUD 1.5 million or more
an annual turnover of AUD 3 million or more for one or more of your main businesses for at least 2 years out of the last 4 years
your ownership interest in the business must be at least AUD 400,000 or 10% of total issued capital if the business is a publicly listed company
a successful business career
Venture Capital Entrepreneur Stream
The following criteria apply:
you have received at least AUD 1 million in funding from an Australia venture capital fund
the fund must be sourced from a member of AVCAL
a formal agreement must have been entered into to develop an innovative or high-value business idea

Applicants for the subclass 132 Business Talent visa are not subject to the points test.
Let us help you find your Australian Business Visa options:


South Australian Business Visa Nomination Requirements
Every state or territory government enforces its own requirements for nominating a migrant and South Australia is no exception. To be eligible for a 132 Business visa in South Australia, the applicant must be able to adhere to the following requirements.
Commitment to South Australia – you need to have visited SA prior to State nomination application and intend to do business and live in South Australia for your long-term settlement
Benefit to State - Commit to invest in South Australia and meet the benefit to state requirement.
Maintain contact - Agree to register your arrival in South Australia with Immigration SA, maintain current contact details and provide updates online and in person every six months for the duration of your visa.
Meet the Australian Department of Home Affairs visa eligibility criteria for the Business Talent Visa
Meet Achievements within two years - Provide information to Immigration SA to enable a two-year review after visa grant. The information must detail the type of business being conducted, the scale of the business and which of the Benefit to State requirements you have met.
SkillSelect Expression of Interest (EOI) – you need to have an EOI which meet the Department of Home Affairs 132 SBH stream criteria and Immigration SA nomination requirements.
What Seperates South Australia From Other States?
As you have read above, South Australia offers an amazing standard of living, has plenty to do, and even more opportunities for migrants, but what truly sets it apart from the other states when considering the Business Talent 132 visa? All in all, more competitive visa requirements.
South Australia,
has the most attractive Benefit To State (BTS) requirements for its 132 applicants out of the 4 main states.

provides more options for its migrants to meet the review in 2 years' time.
is the only state that waives the age requirements if you can bring significant benefits to the state.
government is also very friendly and supportive of its migrants. It holds Trade Shows for the business migrants every year, introducing local business to the migrants.
To be invited to apply for a Business Talent 132 visa, you must meet the above criteria. Work Visa Lawyers will guide you through the process and assist you in providing supporting documents.
Benefit to State (BTS) Requirements - State Comparison
Benefit to State is a list of criteria set by the state that the visa holder must fulfill. Below you will find the Benefit to State criteria for each state. The 132 visa holder must fulfill all of the criteria set forth by their state within two years. If the visa holder fails to meet the requirements within two years, the state has the ability to cancel the visa.
Subclass 132

South Australia (SA)

New South Wales (NSW)

Victoria (VIC)

Queensland (QLD)

Investment Into a Business




(Net Business Assets)

· $1.5m under 55; or

· $1m Regional Under 55;

or

· $3m Over 55; or

· $2m Regional Over 55

· $3 million in funds to NSW(inclusive of $1.5 million business investment) in Sydney; or

· $2 million in funds to NSW (inclusive of $1 million business investment) in regional NSW.

· You must be under the age of 55; and

· You must reside in VIC; and

· $2 million capital investment

Temporarily suspends issuing new invitations for business applications

Jobs

· 4 FTE under 55; or

· 3 FTE regional Under 55; or

· 8 FTE Over 55; or

· 6 FTERegional Over 55

· 5 FTE in Sydney; or

· 3 FTE Regional

N/A

Export

· $600,000under 55

From 1 July 2018 majority cannot be wine if total exports are less than $1 million; or

· $500,000 Regional Under 55; or

· $1.5m Over 55; or

· $1m Regional Over 55

N/A

N/A

Property Development

· $1.5m under 55; or

· $1.5m Regional Under 55;

or

· $2m Over 55; or

· $2m Regional Over 55

N/A

N/A

General Requirement

At least 1.5 million investment or produce 4 new job position or export $600,000 of SA product or services

At least $3 million transferable money + $3 million annual turnover + $1.5 investment + produce 5 new full time jobs

At least $2 million investment + visit Victoria and evaluate business
How Can Work Visa Lawyers help?
The subclass 132 Business Talent visa requires detailed and complete business and financial documents to demonstrate business or entrepreneur experience. Work Visa Lawyers will assist you to determine the necessary documents and information required to submit a strong visa application.

Work Visa Lawyers will also assist with the state/territory nomination application and can also assist with arranging the transfer of funds once the visa is granted, or arranging consultations with the Australian Private Equity and Venture Capital Association Limited (AVCAL) members for the Venture Capital Entrepreneur stream.

Based in Adelaide South Australia, we are in tune with the SA communities and immigration climate. We provide Australian Immigration advice to people and businesses from all over the world.
Our team of experience Immigration Lawyers and Migration Agents look forward to assisting you with your Australian visa or appeal.
If you require further information regarding your Australia visa options you can contact us through:

(08) 8351 9956 or This email address is being protected from spambots. You need JavaScript enabled to view it.