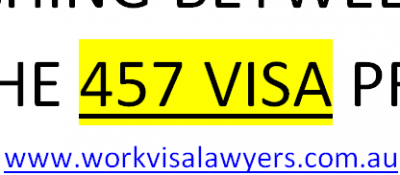 In our earlier blog looking at the year 2015 in review, it was mentioned that the Department of Immigration and Border Protection (DIBP) has introduced measures to penalise activities and arrangement in relation to "Payment for Visas". On 4 December 2015, the Australian Federal Parliament passed the bill for the Migration Amendment (Charging for a Migration Outcome) Act 2015. New criminal, civil and administrative sanctions, and visa cancellation provisions were introduced on 14 December 2015.
The range of actions that can be taken by the DIBP extends to visa applicants, business sponsors and related third parties (such as migration agents) who participate in a payment-for-visa scheme. The severe penalties include:
Criminal penalties punishable by a maximum of 2 years imprisonment or a fine equivalent to $64,000 for an individual person or $324,000 for a body corporate
Civil penalties applicable to the sponsor, visa applicant or other third party who received or provides or offers a benefit related to a sponsorship related offence will equate to $43,200 for an individual person or $216,000 for a body corporate
Provisions for the DIBP to consider cancellation of visas granted to applicants who engage in payments-for-visas conduct
The "payment" in reference includes benefits other than monetary payments. This new legislation will affect the 457 work visa, the Employer Nominated Scheme (ENS) 186 visa and the Regional Sponsored Migration Scheme (RSMS) visa.
Will it affect my 457 visa?
Yes it could if you paid your sponsor! If you paid for sponsorship your visa could be cancelled! The new Bill introduces a discretionary power to consider cancellation of a temporary or permanent visa where the visa holder has engaged in a "payment for visa" conduct.
You can obtain more information about the newly announced measures at the DIBP webpage here.
Comments by Chris Johnston – Principal Lawyer and Registered Migration Agent at Work Visa Lawyers
The measures introduced are part of the recommendations that were tabled in the 457 visa programme integrity review released by the DIBP. The penalties and powers granted to the DIBP demonstrate a strong intention to protect the integrity of the temporary work visa programme.
Even without the fear of punishment and penalties, individuals and businesses should be vigilant and avoid visa scams as they become a source of exploitation of the system and genuine overseas workers. The power to cancel a visa that was granted based on a payment-for-visa scam is a concern for those who have already paid for sponsorship before the Bill came into power.
This information is accurate on 18 December 2015
Source:
1. http://www.border.gov.au/Trav/Work/Work-1
Do you need help with an Australian visa application?
At Work Visa Lawyers we are experienced in assisting applicants in all matters relating to Australian visa applications. Our areas of expertise include Skilled Migration visas, Business Skills Migration visas, Employer Sponsored Work Visas, Partner and other Family Migration visas as well as Migration Review Tribunal, Judicial Review and Ministerial Intervention.
If you require further information regarding your Australia visa options you can contact us through:
(08) 8351 9956 or +61 8 8351 9956
or This email address is being protected from spambots. You need JavaScript enabled to view it.