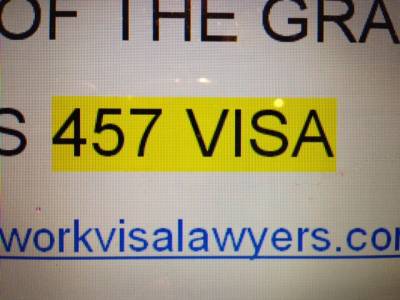 457 visas changes Announced by Australia Government:
The Australian Federal Government has announced on 14 October 2014 that the following changes will be made:
"The Government will reform the 457 visa programme for skilled migrants, while maintaining strong safeguards against abuse.
The 457 programme must be a means of filling genuine skills gaps in the local labour market while not placing unnecessary administrative burdens on business.
An effectively managed skilled migration programme ensures foreign workers supplement rather than substitute Australian workers. A business that is forced to close because it is unable to access the labour that it requires employs no-one. That is a lose–lose situation for both employers and employees.
Following an independent review of the 457 programme, the Government will:
· streamline the processing of sponsorship, nomination and visa applications to reward low risk applicants and refocus compliance and monitoring activities on high risk applicants;
· increase the sponsorship approval period from 12 to 18 months for start-up businesses, to give start-ups more time to make their businesses sustainable;
· provide greater flexibility in relation to English language testing and skill requirements for 457 applicants, to ensure that the standards required are appropriate for the industries and occupations being sought; and
· retain the Temporary Skilled Migration Income Threshold at $53 900, ahead of a review within the next two years.
Safeguards will remain in place to ensure that the 457 visa programme is not rorted. It will continue to be a requirement that a foreign worker receives at least the same market rates and conditions that are paid to an Australian doing the same job in the same workplace"
Comment by Chris Johnston, Principal Solicitor with Work Visa Lawyers:
The announced planned changes will be welcomed by businesses and by potential visa applicants.
The area of greatest interest for visa applicants will be in relation to the proposed greater flexibility in relation to English language requirements.
The 457 Report recommended the English language requirement be amended to an average score. For example, in relation to International English Language Testing System, the 457 applicant should have an average of 5 across the four competencies (or the equivalent for an alternative English language testing provider).
So this averaging system mentioned in the 457 Report could be the greater flexibility, but we will have to wait until the actual changes are enacted.
The date of the 457 changes has not been provided. The Federal Government has said that there "will soon make further announcements on the recommendations of reviews".
Work Visa Lawyers will keep you posted in our news section.
Sources:
Joint media release with Prime Minister Tony Abbott, Minister for Industry Ian McFarlane and Minister for Immigration and Border Protection Scott Morrison.:
http://www.minister.immi.gov.au/media/sm/2014/sm218547.htm


Warning -This information is accurate on the 18 October 2014.
DIBP will change visa requirements in an ongoing manner and all current requirements must be established prior to lodging an application.
Do you Need Help with the 457 process, to be approved as a business sponsor or to get an Australian Visa for an employee?
If you require further information regarding an employer sponsored visa applications , either as an employer or an applicant, we can help you.
Contact us on (08) 7225 5091 or +61 8 7225 5091
or This email address is being protected from spambots. You need JavaScript enabled to view it.